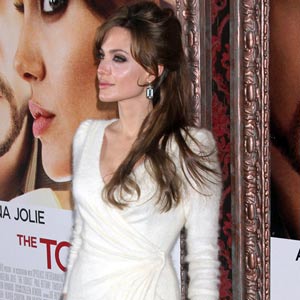 ---

Angelina Jolie was forced to cut short her visit to a Tunisian refugee camp after a mini riot broke out.
The actress—who is a UNHCR Goodwill Ambassador—was on a trip to the African country, and her arrival caused hysteria among the Libyan refugees at the Shusha camp on the Libyan border.
As she made her way through, the group—which had fled to Tunisia from their own war-torn country—chanted, "Angelina Jolie, we want to die for you!" and tried to press close to her.
A photographer for website X17 Online said: "The people were beyond excited to see her. There were thousands of refugees screaming her name and chanting. The crowd was closing in on her and her security detail; it was intense."
Because of the lack of security, the mother of six was forced to cancel half her visit and find shelter in a tent.
The photographer added: "When people found out Angelina was leaving early, they had mixed reactions. Some were upset but still enthusiastic to have her there.
"Angelina was forced to find shelter in a tent, and she had to be protected by 30 military personal with machine guns. Angelina really took a risk by going all the way to the Libyan border."
Angelina—who is famous for her charity work—was also forced to cancel plans to visit a Moroccan hospital in Tunisia.