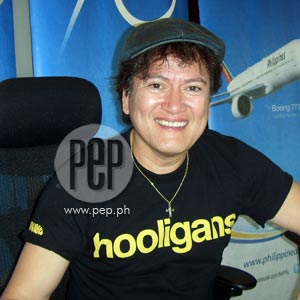 ---
Famed singer-songwriter Bruno Mars isn't the only one doing a homecoming here in the Philippines.
The immediate family members of Bruno are also in Manila—not just to watch the award-winning performer's concerts in Cebu and the Araneta Coliseum tonight, April 8—but also to reconnect with their roots.
For those who are unaware, Bruno Mars—Peter Gene Hernandez in real life—is actually half-Filipino and half-Puerto Rican.
Born and raised in the Waikiki neighborhood of Honolulu, Hawaii, Bruno eventually relocated in 2003 to Los Angeles, California to pursue his dream of becoming a singer and songwriter.
Now, Bruno Mars is known all over the world as the singer behind the chart-topping hits "Grenade" and "Just the Way You Are."
The 25-year-old musician is also credited for writing and co-writing the hit songs popularized by other artists like "Nothin' On You," "Billionaire," "Right Round," "Wavin' Flag," and "Get Sexy," among many others.
TYPICAL PINOY FAMILY. Bruno's uncle, John Valentine, happily recalled witnessing his nephew's budding interest in music when he was just three years old.
Music runs in the family and Bruno's love for singing and performing was undoubtedly shaped by what he saw and heard during family gatherings.
"I started him with the guitar," John told PEP (Philippine Entertainment Portal) in an interview earlier today at the EDSA Shangri-La Hotel in Mandaluyong City.
John—who migrated from the Philippines to Hawaii in 1968 with the rest of the family—served as Bruno's early musical mentor and perhaps first great influence.
"Actually, he started that [playing the guitar] all on his own. Because when we have family gatherings, I have a recording studio, so there's a drum set-up, there's a bass set-up—everything's set up," he continued.
"Everybody plays an instrument in the family... we are a typical Filipino family," smiled John.
ADVERTISEMENT - CONTINUE READING BELOW
SAW FAME COMING. Success and recognition never came easy for Bruno despite his innate musical talent.
John, in fact, remembered his nephew feeling disheartened with the slow progress of his career while in grinding it out in L.A.
Bruno one day relayed to John his desire to return home to Hawaii and completely abandon his musical aspirations.
John, however, discouraged his nephew's plan and instead told Bruno to stay put in America and just continue working on his craft as a musician.
This desire on the part of John to encourage Bruno stemmed from his instinct that something big was about to happen to his nephew's career.
While Hawaii is very conducive for musicians and artists, the opportunities are also limited, especially for an ambitious young man who wants to be heard all over the world.
"It was a good move that he went to L.A. because that's where the recording scene is and the major labels are. So four years later, he called me and he was about to give up coz he misses the family, he misses that, the parties, the gatherings.
"He called me and said, 'Uncle, let's make a band, I'm coming home!' and I said 'No, you should stay there coz that's where the labels are and I can feel it, it's gonna happen!' Two months later everything picked up," narrated John.
When John visited Bruno in California last December, his nephew was already one of the biggest music acts in the world. Aside from the big hits and awards, Bruno is also sought after by fellow artists who want him to write songs for them.
"I stayed with him and he showed me what he did and how he made it. I was there for a week. By the second day I was tired of watching him work because he's in the studio from two o' clock in the afternoon to two o' clock in the morning. And then when he's driving home, he's writing his next song, and when he's sleeping, he's still writing songs," laughed John.
ADVERTISEMENT - CONTINUE READING BELOW
"He became this workhorse that's propelled him to be a big star and he's still like that even today."
So how is Bruno dealing with all the success and overwhelming attention?
"He loves it!" smiled John. "Because he had that all his life. Even in high school, all the girls would just follow him. So, he loves all this attention."