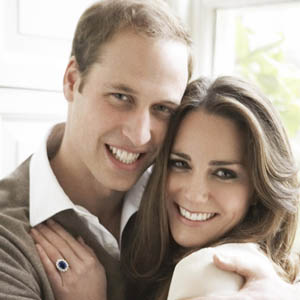 ---
Britain's Prince William and Kate Middleton have both invited their ex-partners to their wedding.
Prince William has invited four of his former loves, including his first girlfriend Rose Farquhar, Arabella Musgrave and socialite Isabella Anstruther-Gough-Calthorpe, in addition to Jecca Craig—who was rumored to be his first true love and is one of his closest friends.
Jecca will attend with her new partner, Captain Philip Kaye, who is one of the prince's polo-playing friends.
Kate has sent invites to ex-boyfriend Rupert Finch, whom she dated at St. Andrews University before meeting William, and Willem Marx, who she is said to have dated at school.
Also, controversially, on the invite list is Kate's multi-millionaire uncle Gary Goldsmith—referred to as the family's "black sheep." The property developer, who sold his recruitment business for £275 million in 2005, was covertly filmed in Ibiza in 2009, where he openly discussed Kate's relationship with Prince William and boasted about meeting him, while reportedly cutting up cocaine.
Celebrities on the guest list include sportsman David Beckham and his designer wife, Victoria Beckham, film director Guy Ritchie and his pregnant partner Jacqui Ainsley, along with actor Rowan Atkinson.
The Middletons have also invited a number of friends from the tropical of Mustique, fuelling speculation that the happy couple will honeymoon on the Caribbean island.
KATE WILL DO HER OWN MAKEUP. Kate Middleton is planning to do her own makeup for her wedding to Britain's Prince William later this month.
The 29-year-old bride-to-be famously refused to have a makeup artist for her official engagement photographs taken by Mario Testino, preferring to do it herself. A close pal revealed that her attitude remains unchanged for her big day.
A friend told Britain's HELLO! magazine: "Kate has never had any help with her makeup and has no plans to start now."
ADVERTISEMENT - CONTINUE READING BELOW
Makeup artist Mary Greenwell praised Kate's look, saying: "Kate has mastered her signature look, which is very pretty and flattering. She is such a natural beauty with those dark eyes, that gorgeous thick hair and a cute button nose, she can most certainly carry off.
"She has the most divine face. She is like a young Elizabeth Hurley, utterly beautiful. So if Kate wants to do her own makeup for her wedding, I say 'Well done!'"
Meanwhile it has been revealed Kate's wedding hair will be styled by London-based hairdresser James Pryce.
The 33-year-old stylist works for the Richard Ward salon in Chelsea, London, while his boss Richard will style the hair of both Kate's mother Carole and sister Pippa, who is the maid of honor.
It is expected that James—who currently charges £50 for a styling session—will be able to charge higher prices as a result of the job.
A source told Britain's Daily Mail: "After the wedding, I expect it will be extremely difficult to get an appointment with James—and that his prices will go up."