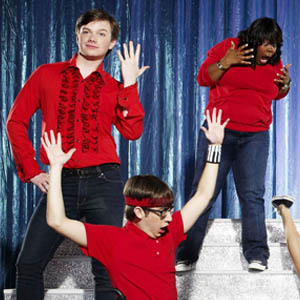 ---
A Glee extra has been fired for revealing spoilers from the show's upcoming prom episode.
Nicole Crowther—who had been hired as a regular extra, appearing in numerous scenes on the musical-comedy TV show—tweeted a message to her followers revealing the Prom King and Queen.
This led to a series of angry messages from producer Brad Falchuk.
Nicole wrote: "K is PQ and Ka is PK (sic)" leading to speculation that Kurt (Chris Colfer) will be Prom Queen while bully Dave Karofsky, played by Max Adler, is Prom King in the gay storyline.
A furious Brad angrily lashed out on the micro-blogging site, writing:
"Who are you to spoil something talented people have spent months to create? Hope you're qualified to do something besides work in entertainment."
After Nicole was inundated with angry messages from fans, she wrote: "They are not doing reshoots because of my careless mistake, so shut up haters and leave me alone. Grow up and get a life."
Then she quit the site.
Although extras like Nicole are not forced to sign non-disclosure agreements, 20th Century Fox—the studio behind Glee—is reportedly now considering bringing these agreements in to prevent this from happening again.
A source told The Hollywood Reporter: "The studio is considering amending all of its talent deals—from series regulars to day players like Crowther—to include strict punishments for blabbing online."