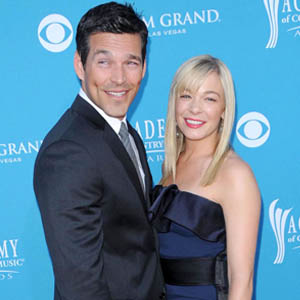 ---
LeAnn Rimes married Eddie Cibrian in a small ceremony in California yesterday (April 22).
The country singer—who was married to dancer Dean Sheremet when she met Eddie, who was also married, on the set of TV movie Northern Lights—wore a dress by Reem Acra and exchanged vows in a private home in the U.S. state in front of 40 guests.
LeAnn's spokesperson confirmed to People.com: "LeAnn and Eddie were happily married surrounded by their closest family and friends. They thank everyone for their well wishes."
Eddie's children Mason, 7 and Jake, 4—from his previous marriage to make-up artist Brandi Glanville—were at the wedding.
The 37-year-old actor proposed—with a 5-carat diamond ring—to the "Can't Fight The Moonlight" hitmaker over the Christmas period. Guests were told they would be attending an engagement party this weekend but the couple surprised guests by marrying.
LeAnn recently claimed the extra-marital affair between the pair was not done "in the right way" and she admitted things got "really messy."
She said: "I know I didn't do it the right way. I didn't have the tools to know how to do it the right way, how to let go the right way.
"I'd never been taught that. I have the strength now but I didn't at the time. So it got really messy, but I have learned a lot from that. And I'm not glad it happened, but I know why it did."