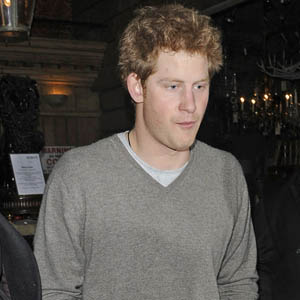 ---
Britain's Prince Harry prevented one of his brother's bridesmaids from crying during his wedding by amusing her with a £1 toy.
The prince handed a pink wiggly worm to three-year-old Eliza Lopes when they were travelling back to Buckingham Palace after the marriage service between Prince William and Catherine on Friday (April 29), stopping the youngster from becoming overwhelmed by the crowds.
The tot—the granddaughter of Harry's stepmother Camilla, Duchess of Cornwall—liked the toy so much, she refused to give it back and it can even be seen in the official wedding portraits taken by Hugo Burnand.
Camilla said: "Did you see the wiggly worm? That was the funniest thing. I can't believe no one has spotted it.
"I was so worried about Eliza. She is such a lovely little thing and looked so gorgeous in her dress but it was a very big occasion for a child of her age.
ADVERTISEMENT - CONTINUE READING BELOW
"Harry pulled this wiggly worm out of his pocket in the carriage to keep them amused. Eliza loved it so much that she wouldn't let go and it even made the official photographs. Can you believe it? She was holding onto my finger but in her other hand was this worm.
"I was so proud of her, she looked adorable in her dress and couldn't stop twirling around in it. It was such a lovely, lovely day."
Meanwhile, Hugo has spoken of his delight about the last-minute shot he took of the newlyweds and their bridesmaids and pageboys, admitting he almost ran out of time to take the picture.
He said: "It was the last one and it was always understood that we might not have time for it. So at the end of all the great portraits, I asked William and Catherine if they were ready for the children, and though we were a little bit behind schedule, they told me to go for it. We had minutes.
ADVERTISEMENT - CONTINUE READING BELOW
"There was really no time for me to direct things, and what's fantastic about that is that every single character you see coming through in that picture is really the character of that person. Catherine naturally extended her hand onto William's knee, and each child is really being very much themself.
"But then when I look at that picture I also see a painted quality to it—a calmness. That's the amazing thing about the relationship we built up in the preparations with Catherine and William. They were able to give themselves to the pictures."