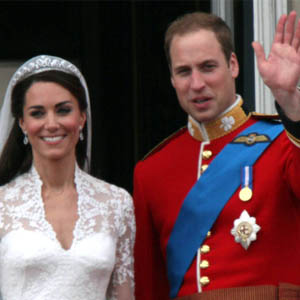 ---
Britain's Prince William and Duchess Catherine received extravagant wedding gifts, despite having asked for donations to their chosen charities instead.
The couple—who married in London's Westminster Abbey last Friday (April 29)—asked guests and members of the public who wished to celebrate their nuptials to give money to organizations via a Charitable Gift Fund, but they still reportedly lavish gifts.
A source told Closer magazine: "Presents were pouring in from state heads, celebrities and members of the public. Sir Richard Branson made a hefty donation and has also offered Necker Island, in the British Virgin Islands, to them for their second, third and fourth honeymoon—he told them it was important to keep honeymooning!"
Although Prince William is a patron of a number of charities, he and Catherine decided to choose causes they have no relation to in order to help the organizations gain more exposure.
A statement on behalf of the couple before their wedding said: "All the charities intended to benefit from the Fund have been chosen by Prince William and Miss Middleton. They reflect the couple's passions and interests as well as some of their experiences in their lives together so far.
"None of the charities chosen have any formal relationship with either Prince William or Miss Middleton. Rather the couple have chosen to take the chance to benefit some causes that have less exposure or which are undertaking valuable work in areas of the community which the couple feel would benefit from this support.
"Prince William retains all his current Patronages and will continue to support them in his usual way."
PRINCE WILLIAM RETURNS TO WORK. The royal and his new bride, the Duchess of Cambridge, returned to their Anglesey home last May 3 following a brief honeymoon at an undisclosed location in the UK ahead of the prince resuming his duties as a search and rescue helicopter pilot yesterday (April 4).
ADVERTISEMENT - CONTINUE READING BELOW
A Ministry of Defense spokesman said of William's first day back: ''It will be a normal day at work for him after the wedding, nothing special planned.
"It's business as usual. He's back to usual RAF working patterns."
Meanwhile, Duchess Catherine is said to be looking forward to a "quiet life" before she is handed full-time royal duties and decides on which charities she wants to support in her new position.
St. James' Palace said: "The Duchess' work within the Royal family initially will be to support her husband with his long-standing patronages and other official duties, and, like any member of the Royal family, to support the queen at home and abroad.
"He is already committed to a number of charitable patronages and Catherine will, initially at least, support him in that as his wife.
"She will, in time, become associated with her own charities but this won't happen immediately as she wants to explore the fields that interest her first.'
The duchess is believed to have received "thousands" of requests from charities seeking her patronage.
A source told the Daily Mirror newspaper: "Kate is very keen to show her support but she wants to take her time to think about who will benefit most."