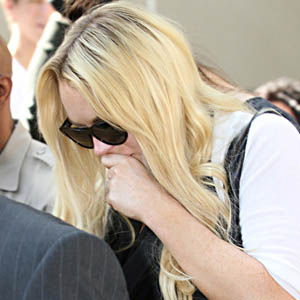 ---
Lindsay Lohan "supports" the sentence imposed on her after pleading no contest to misdemeanor theft.
The troubled actress has been ordered to undertake three years probation, serve 120 days in jail, complete 40 hours of community service, undergo psychological counselling, pay fines of $180, and attend a shoplifters alternative scheme for taking a necklace from an upmarket boutique and breaching the terms of her 2007 probation but says she is now ready to move on with her life after Judge Sautner made a ruling today (May 11).
She said in a statement: "I am glad to be able to put this past me and move on with my life and my career. I support the judge's decision and hold myself accountable for being in this situation. I have already started my community service at the Downtown Women's Center and thank everyone there for their warm welcome.
"I hope to be able to fulfil my obligation without any press attention. I think the media spotlight should be on issues such as homelessness and domestic violence instead of on me."
Lindsay has asked to serve her prison term under electronically-monitored house arrest, and though her request is expected to be granted, her lawyer, Shawn Chapman Holley, insists her client is not receiving special treatment.
She said: "As they would with any other defendant with a similar sentence and minimal criminal history, the Sheriff's Department and Probation Department will determine if Lindsay is eligible for electronic monitoring and early release. She is neither requesting nor receiving 'special treatment.' Lindsay and I would both like to thank Judge Sautner and the Los Angeles City Attorney's Office for their fair handling of this case."
Last month, the actress was deemed to have breached the terms of her 2007 probation—which was set following a driving under the influence conviction—because of the theft charges.
ADVERTISEMENT - CONTINUE READING BELOW
She was sentenced to 480 hours of community service and 120 days jail, for which she must turn herself in on June 17.
Lindsay recently admitted she has "made a lot of poor decisions" and has feared her numerous arrests and rehab stints would ruin her career.
She said: "I've made a lot of poor decisions in the past and I'm dealing with the consequences of those decisions so there were times when I was concerned but I'm a fighter and I know that I have a lot of work to do to gain the respect back and I'm willing to do the work that I have to do to be an actress."