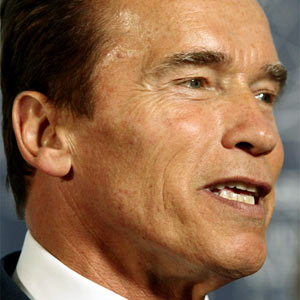 ---
The mother of Arnold Schwarzenegger's illegitimate child has been named as his former housekeeper Mildred Patricia Baena.
The 50-year-old woman, known as Patty, worked for the former Governor of California and his wife Maria Shriver—who left him when she discovered the existence of the child earlier this month—for over 20 years before retiring in January.
Her identity was revealed by a joint investigation by America's Star magazine and RadarOnline.com.
Mildred's $1,200 per-week job included cooking, cleaning, and doing laundry for the couple and their four kids, Katherine, 21, Christina, 19, Patrick, 17, and Christopher, 13, at their mansion in Brentwood, Los Angeles.
Mildred and her son—who was born over 10 years ago—did not live on the premises.
Arnold—who was married to Maria for 25 years—is said to have contributed financially to the boy's upbringing, before eventually confessing his affair to his wife after completing his second term as governor.
ADVERTISEMENT - CONTINUE READING BELOW
The 63-year-old actor said in a statement: "After leaving the governor's office I told my wife about this event, which occurred over a decade ago.
"I understand and deserve the feelings of anger and disappointment among my friends and family.
"There are no excuses and I take full responsibility for the hurt I have caused.
"I have apologized to Maria, my children, and my family.
"I am truly sorry.
"I ask that the media respect my wife and children through this extremely difficult time.
"While I deserve your attention and criticism, my family does not."
Maria added: "This is a painful and heartbreaking time.
"As a mother my concern is for the children.
"I ask for compassion, respect and privacy as my children and I try to rebuild our lives and heal.
"I will have no further comment."
Meanwhile, the couple's children have taken to Twitter to show their support for their family.
ADVERTISEMENT - CONTINUE READING BELOW
Son Patrick wrote: "some days you feel like sh*t, some days you want to quit and just be normal for a bit, yet i love my family till death do us apart. family (sic)"
Their eldest daughter Katherine, wrote: "This is definitely not easy but I appreciate your love and support as i begin to heal and move forward in life. I will always love my family!"