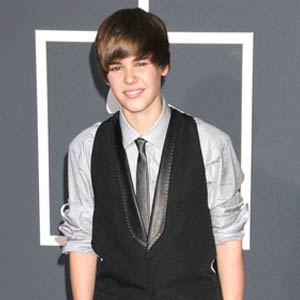 ---
Justin Bieber would love to work with his girlfriend Selena Gomez.
The 17-year-old singer began dating the Disney starlet last year and a smitten Justin—who recently revealed the brunette beauty makes him "really happy"—admitted he would love to collaborate on a record with her because he thinks her music is "amazing."
He said: "Maybe I'd sing with Selena, I've heard all of her new stuff it's amazing.
"I would also love to work with Will.i.am as well as Jay-Z—on a cool fun record."
However, Justin—who celebrated picking up six awards at the Billboard Music Awards last night (May 22) with a kiss from 18-year-old Selena—admitted there are some downsides to fame.
One of them is constantly having to put a smile on for fans.
He told website Hollyscoop: "It was a little bit difficult at first because I was really normal, but I mean I still am normal, I still do regular stuff, it's crazy now to have to deal with the fans, you always have to have a smile on your face but it's fun, I love what I do, I wouldn't change it for the world.
"The best thing about tonight was seeing my mom's eyes and seeing how proud she was."
Justin was so jet-lagged he forgot about his Billboard Music Award wins.
The teen singing sensation—who bagged six gongs, including Top Pop Album for My World 2.0—thinks he must have gone "crazy" because tiredness from travelling back from Japan made him think he had only taken home three trophies.
Writing on his twitter page, he said: "for once waking up because of jet lag is great....because i just found out...
"we won 6 AWARDS 2nite!! I THOUGHT IT WAS 3!!! CRAZY!! I have the GREATESTFANSINTHEWORLD !!! THANK U!!! I LOVE U I LOVE U I LOVE U!! SWAG (sic)"
ADVERTISEMENT - CONTINUE READING BELOW