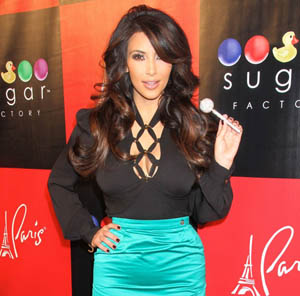 ---
Kim Kardashian has become engaged to Kris Humphries.
The 30-year-old beauty—who has been dating the basketball star for six months—went into "shock" when she walked into her Beverly Hills home to see him on one knee holding a 20.5 carat Lorraine Schwartz diamond ring.
She said: "I didn't expect this at all. I was in such shock. I never thought it would happen at home, and I never thought now."
Kris had Kim's mother Kris Jenner on hand to help him pick the ring, and the pair celebrated with all of her family after she said yes.
She added to People magazine: "Kris really didn't want a big celebration, but he had jokingly told my mom he'd be fine if there were mini-horses there.
"Later that night at the party, my mom brought out two mini-horses, covered in glitter, for us. It was hysterical!"
Socialite Kim has previously said she has not been able to find any fault with him since they began dating.
ADVERTISEMENT - CONTINUE READING BELOW
She revealed: "I think I haven't found one thing wrong with him, let's just put it like that."
KIM WANTS HUGE WEDDING. Kim Kardashian wants her wedding to be bigger than the recent royal nuptials.
The reality TV star is keen for her big day to be much more extravagant and spectacular than when Prince William married Catherine Middleton at London's Westminster Abbey on April 29.
A source told America's OK! magazine: "Kim is planning the wedding of the century. She doesn't see why a royal wedding should get more attention that hers. She sees herself as a bigger celebrity than Kate Middleton."
The nuptials are set to be shown on TV for one of her reality TV shows and Kim thinks it will prove more popular than William and Catherine's wedding.
The source added: "Kim thinks it would probably be the biggest TV wedding of all time."
ADVERTISEMENT - CONTINUE READING BELOW
The 30-year-old beauty has reportedly spoken to designer Vera Wang about creating her wedding dress while guests will include Jennifer Lopez, Fergie, Paris Hilton, Nicole Richie, and Kelly Osbourne.
Meanwhile, Kim made sure she told former lover Reggie Bush she was engaged to Kris before he read about it in a magazine.
A source close to the NFL star—who split from Kim last year—told Hollywoodlife.com: "Reggie was told about Kris and Kim's engagement this past weekend because Kim knew everyone would be contacting him for reaction. He was apparently made aware of the People magazine cover as well.
"During their last breakup, Reggie told me Kim may have been the one who got away. He loved her to death."
KIM'S 2M RING. Kim Kardashian's engagement ring reportedly cost $2 million.
The 30-year-old beauty announced her engagement to basketball star Kris Humphries yesterday and it has now been revealed the 20.5 carat Lorraine Schwartz diamond ring set Kris back a huge sum of money.
ADVERTISEMENT - CONTINUE READING BELOW
According to gossip website TMZ, the ring is worth almost half as much as Kim's Beverly Hills mansion and is valued at $2 million.
A source added: "The ring is of the highest clarity and color."
The stunning piece of jewellery has impressed everyone, including Kim's younger sister, Khloe, who joked it made her engagement ring from husband Lamar Odom look tiny.
She tweeted: "OMG I die for you! Kims ring gave birth to my ring! LOL but my ring is perfection! Its from my Lammy. (sic)"
Khloe also took to her Twitter page to give her congratulations to Kim and Kris, who have been dating for around six months.
She wrote: "I can't believe I was able to keep this a secret but now I can scream all I want about it! Kim is engaged!!!!!!!!!!!!!!!!!!!! OMG!!!!!!!!!! (sic)
She then added: "Kimmie I love you so much!!!! I would do anything in the world for you!!! Seeing you this happy in your life makes me smile daily! (sic)"
ADVERTISEMENT - CONTINUE READING BELOW
Kim's older sister, Kourtney, also took to twitter to speak of her joy about the engagement.
The mother of one wrote: "My sister is engaged!!! I'm squealing with excitement! The princess has found her prince. I am so happy because @KimKardashian is happy! (sic)"