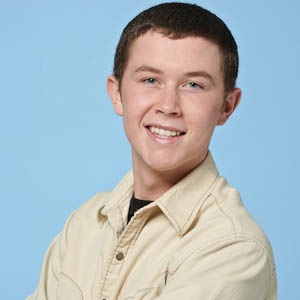 ---
The Boy Next Door won the "battle of country singers" against the Southern Belle at the grand finale of American Idol Season 10 aired earlier today, May 26, live from Kodak Theater in Los Angeles, California.
Scotty Mc Creery got the most number of votes over co-finalist Lauren Alaina after their performances yesterday, May 25. Over 122 million votes were cast.
This season's finale is dubbed as the "youngest finale match-up" in the history of American Idol. Scotty is 17 and Lauren is 16.
Aside from being two of the youngest contestants this season, Scotty and Lauren are both from the South and love country music.
Scotty is from North Carolina and Lauren is from Tennessee.
FINAL PERFORMANCES. Yesterday, Scotty and Lauren performed three songs each.
In the first round, the two finalists picked their favorite songs from the season. Scotty chose "Gone" by Montgomery Gentry, while Lauren chose "Flat On The Floor" by Season 4 winner Carrie Underwood.
In the second round, their idols chose the songs for them. George Strait picked his own song "Check Yes Or No" for Scotty, while Carrie Underwood picked Pam Tillis's "Maybe It Was Memphis" for Lauren
In the third round, music producer and in-house mentor Jimmy Iovine chose original songs for the two young finalists: "Love You This Big" for Scotty and "Like My Mother Does" for Lauren.
Judges Randy Jackson and Jennifer Lopez gave Round 1 to Scotty and Round 2 to Lauren.
Round 3, according to the judges, was a pretty even match-up with Lauren "slightly ahead."
Steven Tyler gave all three rounds to Lauren because "she is more beautiful" than her male counterpart.
At today's grand finale, the Top 13 of American Idol Season 10—including Filipino-American Thia Megia—got to perform and share the stage with some of the biggest names in the music industry.
These includes Beyonce, Lady Gaga, Carrie Underwood, Tony Bennett, Tim Mc Graw, Jack Black, TLC, Judas Priest, Gladys Knight, Edge, and Bono.
ADVERTISEMENT - CONTINUE READING BELOW
Judge Jennifer Lopez performed with husband Marc Anthony.
Steven Styler, American Idol judge and vocalist of the rock band Aerosmith, brought the house down with his "Dream On" performance.
Past American Idol winners include Kelly Clarkson, Ruben Studdard, Fantasia Barrino, Carrie Underwood, Taylor Hicks, Jordin Sparks, David Cook, Kris Allen, and Lee DeWyze.