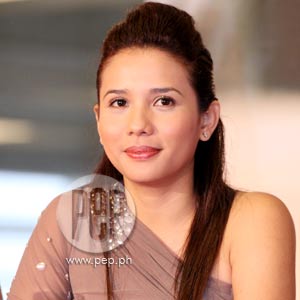 ---
Karylle says that it was only by accident that she ended up getting a part in the first ever pan-Asian television musical drama series, The Kitchen Musical.
"I was told of it by a friend. Closed audition kasi siya, I actually wasn't invited," she says in an interview with PEP.ph (Philippine Entertainment Portal) at the presscon of The Kitchen Musical yesterday, May 30.
This did not deter Karylle who had set her mind on joining.
She shares that her theater background prepared her for whatever outcome because, "I have been to auditions kung saan natanggap ako, while there are other more highly-publicized ones that I did not get.
"I've been to many auditions and I know that's the way they do things abroad, na may auditions and callback.
"Ang mahirap sa Philippines, it's very discouraging because the way they publicize it, ginagamit nila yung rejection for mileage.
ADVERTISEMENT - CONTINUE READING BELOW
"What it simply means is that part wasn't for you and that's exactly what an audition is for."
Karylle recalls how she auditioned for the first time in Little Mermaid for the lead role and ended up getting the support role.
"Nakita ko, it's cool naman, okay naman kasi mas bagay ako sa role that I got."
The lead part went to KC Concepcion.
THE KITCHEN MUSICAL. For The Kitchen Musical, Karylle got sick during the callback and remembers hoping that, "Sana maganda na yung nakita nila at pag nakita pa nila yung chemistry namin, sana okay rin."
Fortunately, Karylle did get the part because the Singapore-based production team along with prospective viewers of the show across Asia simply loved her.
As a result, she and her co-stars Christian Bautista and Thou Reyes will be seen in 19 countries across Asia this October. (CLICK HERE to read related article.)
ADVERTISEMENT - CONTINUE READING BELOW


Karylle says that getting the role just a month ago leaves her still in disbelief, awe, and amazement that she got it at all.
"I've been so busy the past month because of my album, and every day Showtime, with a shoot pa in Amsterdam and London for a whole week, that I haven't really gotten to prepare for this."
She even has several radio show stops to complete before she flies to Singapore on June 1.
"I'll even stop by Showtime one more time to say goodbye properly."
Her preparation consists mainly of watching cooking shows and reading culinary books written by famous chefs, courtesy of her cousin.
"Kahit papaano, I have a good idea of what the show is about because of the pilot [sample material only] we shot, at yun talaga naka-prepare ako," she said.
The Kitchen Musical, Karylle reveals, is also the reason why her musical play Light in the Piazza was moved to a staging date in 2012 instead of its original July 2011 start date.
ADVERTISEMENT - CONTINUE READING BELOW
ON YAEL YUZON. Throughout the presscon, Karylle demurely refrained from answering questions regarding her special someone-Yael Yuzon, the vocalist of the rock band Spongecola.
In our one-on-one sitdown with her, she explains why.
"There was a time in my life when I think I overshared, na feeling ko rinding-rindi na yung mga tao, thinking, 'Why is she still sharing the same old thing?'
"It was actually my way of showing people that I was fine and I think I overdid it.
"I shared with somebody na, 'Ang hirap kasi people ask me the same thing over and over again,' and just to prove na I'm okay with it, I'm not bitter, I'll just answer."
Karylle's friend pointed out to her that, "Para lang 'yang lamay. Sometimes you have to say the same story over and over again to different people because they all wanna hear it from your mouth."
ADVERTISEMENT - CONTINUE READING BELOW
"So that's what I did, when people asked, I answered.
"I wasn't gonna say, 'I'm not gonna answer that,' because it will sound bitter.'
"I think I overdid all that lang."
Karylle smiles wholeheartedly and says, "I think I learned from the whole thing.
"I'm now taking it from the Queen of Philippine cinema, Ms. Susan Roces, who told me during our Mano Po 2 shooting, 'Mag-iwan ka para sa sarili mo, don't say everything.'"
NOTHING TO HIDE. Karylle says that at the time she thought that advice wasn't something she needed to do, because she felt that she "had nothing to hide naman."
"This time though, I'm taking her advice and I'm really gonna quote her on that!" Karylle declares, laughing.
Karylle does tell us that her special someone has met her mother, Zsa Zsa Padilla.
She does not, however, openly reveal the opinion of her mom regarding Yael.
ADVERTISEMENT - CONTINUE READING BELOW
"I don't want to speak for my mom because she is a personality as well.
"It's really between them, and I guess people can just ask her what she thought of him," Karylle says with an enigmatic smile.
So what does she appreciate the most about her man?
"Nowadays, I've written everything down in my music and you can just take it from there.
"You can assume what you want and you can think what you want about it.
"You might be right or you could be wrong, but I think that's the fun and beauty in that."
Like when Karylle listens to a song by Fergie, she'd think, 'Is that about Josh [Duhamel, Fergie's husband]?'
"It's always gonna be a question mark, like with Taylor Swift, you don't always know anymore which song corresponds to which ex, so that's pretty much the fun."
ADVERTISEMENT - CONTINUE READING BELOW
Now Karylle just wants to share more through her music versus talking about it.
"Mas maganda yung kuwento doon, e. It's more feel na feel."
How will they manage being apart for the next four months?
Karylle discloses that for now, she isn't completely in the loop of what and how things will go in Singapore.
She knows that they will be well cared for, but "I have no script, nothing yet because everything is confidential.
"I really don't know the set-up pa there and I'm just going with the flow right now."
BEING AN AVID READER OF PEP. Karylle candidly admits, "I've followed a lot of stories on PEP."
She reveals that it got so badly addicting that for Holy Week, she abstained from visiting PEP.ph altogether.
"Pero sabi ko nga, bakit pa ako naging tsismosa if I can't even learn something from the people na pinagtsitsismisan ko," she says.
ADVERTISEMENT - CONTINUE READING BELOW
"Reading the articles, you see how certain things are affected by what is said and by what isn't said."
She says that if we want to get answers to questions about her lovelife, "Go to the music, it's all there."
CELEBRATING INDEPENDENCE DAY IN NEW YORK. Karylle will fly to Singapore on June 1. But by Saturday, June 4, she'll be flying to New York with Jericho Rosales and Vice President Jejomar Binay to celebrate June 12 with the Filipino community.
"We're gonna sing there, we're gonna have a parade.
"I'll be wearing a Filipiniana I had especially made by Joey Samson because the last time I did an Independence Day celebration in Oman, I didn't have one and I really felt bad about it."
This upcoming performance in the Big Apple is also going to be Karylle's first time to perform with a DJ and she's really excited about it, especially since they're going to be on Madison Avenue.
ADVERTISEMENT - CONTINUE READING BELOW
"Parang surreal daw during the parade because everyone is in their Filipino get-up, but you're in the middle of New York."