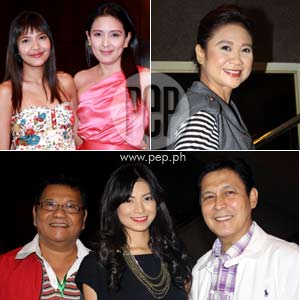 ---
Festival director Nestor Jardin was nostalgic as he recalled the first press conference held for Cinemalaya way back in 2005. "There were only about four tables at the venue. Today, I can say that we have grown substantially," he said as he looked at the attendees who graced the press conference held last Wednesday, June 8.


The main lobby of the Cultural Center of the Philippines was filled with celebrities, directors, members of the media and guests who were there to lend their support for the 7th edition of Cinemalaya.


Aside from showcasing films that "boldly articulate and freely interpret the Filipino experience," this year's Cinemalaya will also screen films from Korea, Thailand, Malaysia, Indonesia, China, Vietnam, Singapore and Japan for a section called Focus Asia.


To accommodate more viewers, this year's entries will be screened at the CCP and Greenbelt 3 in Makati City from July 15-24, 2011.


Furthermore, the Cinemalaya entries that will be screened at Greenbelt 3 will have "rating exemptions" from the Movie and Television Review and Classification Board.


Alessandra de Rossi graced the occasion to represent the entry Busong, which is directed by Auraeus Solito. Shot entirely in Palawan, Busong is the first Cinemalaya entry to enter the Cannes Film Festival in France. Direk Auraeus and Alessandra received a standing ovation when they attended the world premiere of the film last May 16. The film, with the international title Palawan Fate, was one of the 21 films selected for the Director's Fortnight section of Cannes.


(CLICK HERE to read related article)



Ms. Jean Garcia shared a table with Rocco Nacino and Paulo Avelino, her co-stars in Ang Sayaw ng Dalawang Kaliwang Paa.


Marvin Agustin, Ciara Sotto, and Allen Dizon were among the celebrities who represented Patikul. Glaiza de Castro plays the lead role in i-Libings and a supporting role in Patikul.


Cherry Pie Picache also has two entries: Isda (Fable of the Fish) and Ang Babae sa Septic Tank.


Eugene Domingo was present that day along with her Ang Babae sa Septic Tank co-stars Kean Cipriano and Cai Cortez.
ADVERTISEMENT - CONTINUE READING BELOW

Meanwhile, Tirso Cruz III and Edgar Allan Guzman are part of the family drama Bisperas.


Now on its seventh year, Cinemalaya has paved the way for indie films to become an integral part of pop culture. Supporters of the annual film fest have grown from 5,000 viewers in 2005 to 50,000 in 2010.


NEW BREED CATEGORY. As in previous seasons, the finalists for the New Breed Full Length Feature category received P500,000 each from the Cinemalaya Foundation to be used for producing their entries. The winner of this category will bring home P200,000 and the Balanghai Trophy. The nine films competing in this category are:
Amok - Direk Lawrence Fajardo used the streets of Pasay Rotonda as his backdrop for Amok. An enraged gunman (Dido Dela Paz) opens fires on several people whose lives are tackled in the film. As the day progresses in hot and humid Manila, the fate of these people are decided — will they die or survive? Veteran actors Mark Gil, Nonie Buencamino, Gary Lim, Efren Reyes Jr., Spanky Manikan, Dido Dela Paz and Archi Adamos portray passersby whose lives are changed by this incident.
Ang Babae sa Septic Tank - Marlon Rivera directs this "movie within a movie" from a script by Chris Martinez. Eugene Domingo stars as an "upgraded" version of herself in Ang Babae sa Septic Tank. A group of amateur indie filmmakers (JM De Guzman, Kean Cipriano and Cai Cortez) attempt to hire Eugene as their lead star. Throughout the film, Eugene, Cherry Pie Picache and Mercedes Cabral depict varying treatments of the same plot: Mila, a mother from the slums, has decided to sell her child to a pedophile. Viewers will get to see the story told through a neo-realist version; a glossy musical; an over-the-top melodrama as well as a docu-drama featuring non-actors.


Bahay Bata - Set at Christmas Eve in an overcrowded maternity hospital, this film stars Diana Zubiri as Nurse Sarah. Amidst the chaos of the hospital, Sarah has to deal with her clandestine relationship with her boyfriend (played by Yul Servo). Though it was never their intention, director Eduardo Roy and playwright Jerome Zamora admit that Bahay Bata reflects the ongoing debate on the controversial Reproductive Health bill.
ADVERTISEMENT - CONTINUE READING BELOW
Cuchera - Another timely film in the lineup, Cuchera is a true-to-life depiction of the dark underworld of drug trafficking. According to Direk Joseph Laban, the character of Isabel (Maria Isabel Lopez) was based on the life of a Filipina drug mule who is allegedly the record holder for carrying the most amount of drugs hidden inside her body. When she was busted by Chinese authorities, drugs were found inside her rectum and her sex organ.
i-Libings - What's good about death, anyway? The funeral videography crew of i-Libings and their new intern Isabel (Glaiza de Castro) will give you the answers. In this coming-of-age story by Rommel Sales, i-Libings tackles the ironies of life and how, in the most unusual circumstances, a young girl finds her peace. Glaiza will be joined in this film by her brother Alchris Galura, as well as Carlo Aquino, Rez Cortez, Marc Abaya, and Earl Ignacio.
Ligo Na Ü, Lapit Na Me - Based on the bestselling novel by Eros Atalia, Ligo Na Ü, Lapit Na Me is a modern love story of Karl (Edgar Allan Guzman) and Jenny (Mercedes Cabral). They are best friends with benefits, but Karl crosses the line when he falls in love with Jenny and admits it to her. Unfortunately, Jenny gets pregnant but she reveals that Karl is not the father. How does a young man in love cope with this devastation? Find out in this film adaptation by Erick Salud, Noel Ferrer and Jerry Gracio.
Niño - Just like a telenovela, the Lopez-Aranda family in Loy Arcenas' Niño faces collapse as they struggle to maintain their once illustrious status. Amidst greed, betrayal and misplaced pride, hope arises. Starring Fides Cuyugan Asensio, Shamaine Buencamino, Tony Mabesa, Raquel Villavicencio, Art Acuña, Diana Malahay, Joaquin Valdes and introducing, Jhizhelei Deocareza.
ADVERTISEMENT - CONTINUE READING BELOW
Teoriya - Jimmuel Apostol II (Alfred Vargas) is on a journey around Zamboanga in Zurich Chan's Teoriya. After 10 years of estrangement, Jimmuel is determined to find his dead father's burial place. But as he goes on a road trip to search for his father's remains, he discovers more about himself and what he has been missing all this time.
Ang Sayaw Ng Dalawang Kaliwang Paa - A story inspired by the poems of feminist writers Merlinda Bobis, Ruth Elynia Mabanglo, Joi Barrios, Rebecca Añonuevo, Benilda Santos and Ophelia Dimalanta. Produced in cooperation with the Far Eastern University, director Alvin Yapan tells the tale of dance students Marlon (Paolo Avelino) and Dennis (Rocco Nacino), and their teacher Karen (Jean Garcia). They are captivated by the seductive dance of love. But will any one of them ever perfect this complicated routine? Or will they all just falter in the end?


DIRECTOR'S SHOWCASE. In the Director's Showcase category, four established directors are vying for the prize of P300,000 and the Balanghai Trophy. The four films in competition are:
Bisperas - A film set during Christmas Eve by Direk Jeffrey Jeturian. The Aguinaldo family arrives home from midnight Mass only to find that they have been burglarized. As they check to identify their missing belongings, they discover that there is so much more beyond the material things that this family has lost through the years. With a star-studded cast of Tirso Cruz III, Raquel Villavicencio, Jennifer Sevilla, Julia Clarete and Edgar Allan Guzman, will the Aguinaldos ever recover what they have lost?
Busong (Palawan Fate) - While growing up, Auraeus Solito's mother told him bedtime stories about her hometown in South Palawan. Direk Auraeus believes "as a modern filmmaker with an ancient lineage, it is his turn to retell these stories and visualize them through film."


In the film, the island is on the brink of being captured by foreign invaders. Angkarang (Dax Alejandro) carries his sick sister Punay (Alessandra de Rossi) all over Palawan in search of a cure. As they journey through the island, they meet several other characters who are also trying to find a "cure" for the island's critical condition.
ADVERTISEMENT - CONTINUE READING BELOW
Isda (Fable of the Fish) - Call it surreal but Lina (Cherry Pie Picache) is a woman who gives birth to a fish in the middle of the storm in Adolfo Alix Jr.'s Isda. A familiar story about a married couple longing to have a child of their own, but how will they accept this twist of fate? Will a mother's unconditional love for her "child" be enough to convince her husband Miguel (Bembol Roco) and everyone else that what they have is a blessed family and not a circus freak show? Angel Aquino, Rosanna Roces, Anita Linda, Arnold Reyes and Alan Paule are also cast in this film.
Patikul - Reality bites in Joel Lamangan's Patikul. As political and social unrest continue to haunt the province of Sulu, the parents of a small town fight for their children's right to a good education. Starring Marvin Agustin, Allen Dizon, Glaiza de Castro, Ciara Sotto and Dimples Romana, this film shows how residents were able to cope when rebels mercilessly decapitated a school principal (played by Marvin).


SHORT FILM CATEGORY. Ten entries are vying for a cash prize of P100,000 and Balanghai Trophy in the Short Feature Film category.


Competition director Laurice Guillen points out, "This younger generation of indie filmmakers is the reason why we are doing this festival." Through this section, Cinemalaya hopes to help budding filmmakers and inspire them to continue honing their craft.
Debut - Visual artist Pamela Llanes Reyes uses her knowledge about traditional and digital illustrations, painting, photography, graphic design and layout to present a story of an adolescent girl who is about to discover the world before her.
Every Other Time - College life is the focal point of Gino Santos' entry. Sometimes, it is not the academics but the parties that make college life interesting to a teenage student. But in the midst of all the booze and wild nights, the main character realizes that there is something more substantial in college other than getting wasted.
ADVERTISEMENT - CONTINUE READING BELOW
Hanapbuhay - Already an award-winning director for TV advertisements, Henry Frejas uses his trademark humor in presenting Hanapbuhay, a story about an average guy trying to make a living for his family. As he goes through another day, he is faced with the ironic realities his simple life has to offer.
Hazard - Only 19 years old, Mikhail Red has already gotten recognition from various international film festivals for his short films. Last year, he won Best Screenplay in Cinemalaya for the short film, Harang. Red tells the story of a father and son on a road trip. As they journey out of the city, they discover something that will rock their already unstable relationship.
Immanuel - Director Gio Puyat tells the story of Leo Sagaysay (Ping Medina), his wife Rubi (Meryll Soriano) and their little son. They are the main characters living in an unlikely setting of a future Philippines where air pollution has taken its toll on the environment. The plot thickens when a chain of unfortunate events causes the Sagaysay family to fight for survival in their blighted world.
Niño Bonito - In the trailer for Niño Bonito, director Milo Tolentino highlights Boni (John Michael Soriano) delivering his "fliptop" speeches. In an impoverished community, how does a little boy confront the issues of drugs, petty crime and abuse?
Oliver's Apartment - Director Misha Balangue depicts the life of a germaphobe, a man suffering from Obsessive Compulsive Disorder (OCD) in Oliver's Apartment. Oliver (Chris Roach) has lived inside his apartment for seven years now. Not once has he gone out in fear of catching germs. But when he receives a postcard one fateful day, his routine suddenly changes.
Samarito - A burglar aborts his plans when the homeowner couple suddenly arrives and argues. This leads to a violent altercation and the woman ends up seriously hurt. The burglar runs away but his conscience gets the better of him and turns back. Does he have it in him to be a good Samaritan? Director Rafa Santos highlights human compassion in Samarito.
ADVERTISEMENT - CONTINUE READING BELOW
Un Diutay Mundo - Zamboanga-based director Ana Carlyn Lim shares a story about breaking free in Un Diutay Mundo. Three characters — a feral child, an aspiring writer and a mystery person — are trapped in a dark room and they want to get out. Will they be able to get out of their "prison," or will they fail? And what is this mystery persona, really?
Walang Katapusang Kwarto - Emerson Reyes shoots his lead stars, Sheenly Gener and Max Celada, in a small bedroom where the two share a seemingly endless conversation about life and love. What goes on inside that room spells freedom for the characters as it hides them from the curious eyes of the world. Direk Emerson calls his film a love story... or maybe not.


The 7th Cinemalaya dares viewers to "See The Unseen" through the 31 digital entries in competition plus more than a hundred films in exhibition.