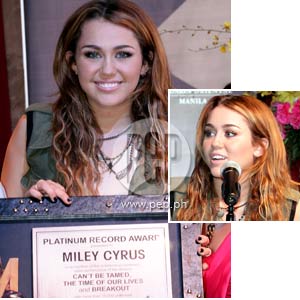 ---
American pop singer-songwriter Miley Cyrus already had a taste of what to expect from her Filipino fans even before her concert tomorrow, June 17, at the SM Mall of Asia Concert Grounds in Pasay City.
"The fans have been amazing! They know all the songs, and it's just amazing when people are excited, and I think it helps when it's your first time," said the former Hannah Montana mainstay.
Miley—who dropped by at Eat Bulaga! to promote her concert at around noontime—met up with the local press this afternoon, June 16, at the Martinis Bar of the Mandarin Oriental Hotel in Makati City.
The 18-year-old teen idol ignored her lack of sleep and was very gracious in answering all the questions that were relayed by singer-actress and MYX VJ Nikki Gil.
"My brother's been here before," revealed Miley, referring to her musician brother, Trace.
"He told me that the crowd is awesome. He played in the same place that I'm going tomorrow."
ADVERTISEMENT - CONTINUE READING BELOW
The Corazon Gitano (Gypsy Heart) Tour is actually Miley's third time to embark on a series of concerts staged in different locations.
Miley's previous tours, Best of Both Worlds (2007-2008) and Wonder World Tour (2009), have taken her to various cities around America and even Europe.
The Corazon Gitano (Gypsy Heart) Tour, however, is her biggest so far, bringing Miley to Peru, Chile, Argentina, Brazil, Venezuela, Colombia, Panama, Mexico, among others.
Performing before appreciative foreign fans regardless of language and cultural barrier gives Miley the satisfaction and motivation to take her music outside the U.S.
"It's the fans singing along and relating," she said about the joy of touring.
After the Philippines, which is the only Asian country included in the tour, Miley will proceed to Australia to do a couple of shows before taking a much-deserved break from performing and recording.
Taking a break is not that easy, of course, for someone who is a worldwide celebrity.
ADVERTISEMENT - CONTINUE READING BELOW
Miley, according to the American Sunday newspaper magazine, Parade, is one of the richest teenage celebrities in the States.
Despite her fame and growing net worth, Miley stressed that she values traditional things, like spending quality time with her family and friends.
Dealing with the paparazzi, or photojournalists notorious for hounding celebrities even during their private moments, has become a way of life even for a young celebrity like Miley.
"No matter what, there'll always gonna be paparazzis in L.A. [Los Angeles], there'll always be things like that in L.A," confided Miley, who popularized the songs "See You Again," "Breakout," "Fly On The Wall," "The Climb," and "Party In The U.S.A."
"I think you make it [clear to them] that here is my limit, I deserve respect, I'm a person, and if you let them know your boundaries, like this is my family time, this is my friend time, and this is something personal...
ADVERTISEMENT - CONTINUE READING BELOW
"And if they don't follow the rules then you'll get into some problems—if you demand respect, you'll get it!"
Miley added, "I don't love weird creepy dudes hiding on bushes and taking pictures of me in a bathing suit, then someone judging me on who looks better on the same bathing suit.
"That's stupid, and it's ignorant, and it's such a waste of space.
"There are so many great things out there to read, [and] you spend your time reading that. Especially if you're in my position, it sucks."
But Miley has learned to embrace both the ups and downs of the limelight, and being able to do what she loves best has been all worth it.
"I think the biggest one [misconception] about me is, there are a lot of things that people kind of make up about me, but I think the most is some people think that I do the things that I do for shock value, or I do it for attention.
ADVERTISEMENT - CONTINUE READING BELOW
"My dad [Billy Ray Cyrus] told me that, 'Everything that you do in life that comes from the place that you love, you'll always succeed, no matter what.'
"So I think, probably, I do love the paparazzi, I do love the media, I do love the rumors, although quite frankly, I think it's the worst part of the industry.
"But in everything that you do, you just have to take it all in and love it."