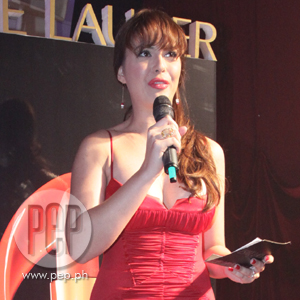 ---
The whole world celebrated Father's Day last June 19 and former Brazilian beauty queen Priscilla Meirelles did not miss her chance to make the occasion extra special for her husband, John Estrada.
As a gift, she treated her husband to a weekend getaway in Mactan, Cebu.
She shared with PEP.ph (Philippine Entertainment Portal) how she came up with a plan to "kidnap" her husband and keep him hostage for Father's Day.
She narrated what she told John: "On Saturday, after Happy Yipee Yehey, dumaan ka dito sa bahay. I'm gonna kidnap you.
"Sabi niya, 'Ha? Where are we going?'"
"I said, 'Ay, basta, I'm gonna kidnap you. Basta after work, you pass by the house and I'm gonna kidnap you.'"
Fast forward to Saturday. Priscilla continued her story. "Three-thirty [p.m.] andun na siya sa bahay. He called me and said, 'Where are you? 'I'm on my way.'
ADVERTISEMENT - CONTINUE READING BELOW
"I had a service pick us up. Then I told him 'Okay, anong gusto mo to bring today?'"
John picked out his clothes and Priscilla packed them in a suitcase.
She said it's not something she usually does since she likes packing and arranging things perfectly before a trip.
As they made their way to the terminal, John asked Priscilla, "Are we flying? I hate flying."
She replied: "You don't have an option. Kung gusto ko to fly, it's up to me. I'm the kidnapper!"
"[So there,] I kidnapped him. I dragged him to Cebu and brought him to this very nice place, a very private resort called Abaca. It's like a honeymooners' place.
"Sabi ko sa kanya, 'You need to rest.'"
How did John react?
"Sabi niya, 'Baby, you should've told me. I could've brought my bag so I can play golf. There are so many nice golf parks in Cebu.'
ADVERTISEMENT - CONTINUE READING BELOW
"Sabi ko, 'Hinde. Rest muna. You're working so hard. You don't sleep well, now it's time for you to rest.'"
Priscilla said that they had a great time relaxing and just enjoying each other's company in Cebu.
On Father's Day itself, she had their room filled with balloons and had rose petals scattered on the floor to surprise her husband.
All in all, Priscilla was satisfied with the result of her efforts.
"I'm glad he enjoyed it. I can see he's kilig about it. He really enjoyed it."
John even told Priscilla: "Next week let's do something like this again, ha?"
Priscilla said "yes" to John's request and ended the story of their weekend getaway saying, "We're very happy."
ON JANICE. Also on June 19, John's ex-wife Janice de Belen's announced in a taped interview on The Buzz that she would be returning to the Kapamilya network. (CLICK HERE to read related article.)
ADVERTISEMENT - CONTINUE READING BELOW
Janice will be joining the cast of the upcoming ABS-CBN primetime series, Budoy, headlined by Gerald Anderson.
Now that John and Janice are in the same network, the chances of them working together again are highly possible.
How is Priscilla taking this?
"Actually before pa, si Inah (John and Janice's eldest daughter) sinabi na sa amin that, 'O, Mommy's gonna have a meeting with ABS, maybe she's gonna transfer.'
"Sabi ko, 'Oh, you know that's perfect because I really believe and I've heard that your mom is a great actress. And ABS-CBN has very good projects especially sa soap opera. So, that's such a blessing. Good luck and I hope she really goes for it.'"
She describes this update on Janice's career as "good news."
She added, "There's so much potential, e, and [I'm] pretty sure she's gonna fit, and she's a Kapamilya before, so we are actually very happy for her and we wish her all the best and success in everything."
ADVERTISEMENT - CONTINUE READING BELOW
How would she take it if John and Janice were offered a project together?
"Well, kay John, hindi ko alam kung okay sa kanya. Pero sa akin naman, walang problema."
Would it affect her since John and Janice were once married to each other?
"They have a past. It's over na; they're no longer husband and wife.
"They no longer have any kind of relationship aside from the fact that he's the dad of the kids and she's their mom.
"I believe they both respect each other.
"If in the future, meron sila projects together and open sila [to work] sa isa't isa, then why not.
"It's really up to them. I don't really mind."
What if the ex-couple rekindle their romance?
"I think it's [just] work and I support my husband's work and professional life.
"Kung comfortable si John and comfortable si Janice [to work together], why not?
ADVERTISEMENT - CONTINUE READING BELOW
"It's really up to them kung gusto nila."
Priscilla also reiterated that there is no negativity between her, John and Janice. She even recounted the time when she first met Janice in person.
"Actually, it was a very nice encounter. She was the one who approached me.
"Before kasi, wala kami talaga opportunity to meet each other so she came to me and introduced herself.
"Sabi niya, 'I'm the mother of the kids and I've heard good things about you. Thank you for being nice to my kids.'"
Priscilla replied, "Wow. You have amazing kids. It's a sign that you're a great mother. Thank you also for allowing your kids to be close to me."
Priscilla said their first meeting went very smoothly.
She also shared that they had a chance to meet again at a common friend's house.
There, they got to know each other a little bit more in an intimate girl-bonding moment.
ADVERTISEMENT - CONTINUE READING BELOW
"We were just masaya na puro girls and we were just talking.
"Walang problema kami, e. Wala talaga.
"She's a very smart woman, very strong personality. I believe I'm also in the same level and we respect each other."
Perhaps another reason Priscilla is not worried about Janice—aside from the fact that they respect each other—is she has never seen John and Janice together.
"I don't know in the past, but since I've been with John, wala.
"I never saw them like having dinner or something like that. Wala.
"Their relationship is purely because of the kids.
"Kung meron kaming activity, it's me, John and the kids, or the family of John—the mom, dad, the sister and cousins nila.
"Never ko na-encounter na kasama si Janice.
"Maybe that's the way they wanna keep things and that's what they're comfortable with."
ADVERTISEMENT - CONTINUE READING BELOW