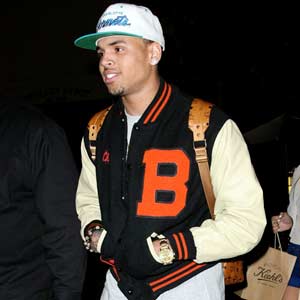 ---
Chris Brown picked up four prizes at the BET Awards last Sunday night (June 26).
The 22-year-old singer's track "Look at Me Now"—a collaboration with Lil Wayne and Busta Rhymes—was awarded the Viewers' Choice, Collaboration and Video of the Year accolades, while he also personally took home the Male R&B Artist honor.
However, he almost failed to receive the Viewers Choice prize after a technical error meant it was initially awarded to Rihanna—the ex-girlfriend he was convicted of assaulting in 2009—with her pal Drake stepping up to accept the trophy in her absence, though the mistake was corrected at the end of the evening.
Speaking afterwards, Chris said: "I know it's been a long road, so I just appreciate every blessing that's been in front of me."
Other winners at the ceremony—which recognizes the achievements of African Americans and other minorities—included Willow Smith and her brother Jaden, who were jointly honored with the Young Star accolade.
During her speech, Willow paid tribute to her famous parents Will Smith and Jada Pinkett Smith, thanking them for "letting us push harder and keeping us on track with our music and stuff."
Kanye West and Nicki Minaj won the Male and Female Hip-Hop Artist prizes, The Wire actor Idris Elba, tennis star Serena Williams and British rapper Tinie Tempah.
Performers at the event, which took place at Los Angeles' Shrine Auditorium, included Lil Wayne, Alicia Keys, Cee-Lo Green and Chris Brown.
Queen Latifah and Snoop Dogg performed as part of a memorial segment that recognized the passing of Nate Dogg, Teena Marie, Clarence Clemons, and Gil Scott Heron, among others.
The ceremony ended with Beyonce Knowles' performance at the Glastonbury Festival in Somerset, South West England, that was beamed into the auditorium.
BET Awards 2011 full list of winners:
ADVERTISEMENT - CONTINUE READING BELOW
Viewers' Choice: "Look at Me Now," Chris Brown, featuring Lil Wayne and Busta Rhymes

Male R&B artist: Chris Brown

Female R&B artist: Rihanna

Male hip-hop artist: Kanye West

Female hip-hop artist: Nicki Minaj

Collaboration: "Look at Me Now," Chris Brown, featuring Lil Wayne and Busta Rhymes

New artist: Wiz Khalifa

Group: Diddy-Dirty Money

Video of the year: "Look at Me Now," Chris Brown, featuring Lil Wayne and Busta Rhymes

Video director the year: Chris Robinson

Young Star (tie): Willow and Jaden Smith

Actor: Idris Elba

Actress: Taraji P. Henson

Movie: For Colored Girls

Gospel: Mary Mary

Centric: Marsha Ambrosius

Sportsman: Michael Vick

Sportswoman: Serena Williams

International act (UK): Tinie Tempah

International act (Africa) (tie): 2Face Idibia (Nigeria), D'Banj (Nigeria)