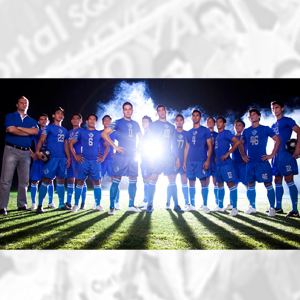 ---
"We're not feeling any pressure at all," said the Azkals head coach Hans Michael Weiss about the game tomorrow, July 3, against Sri Lanka.
He added that the guys have been working so hard, and "they already know what to do once they're out there."
At the launch of Cortal SQR, the team's new endorsement, yesterday, July 1, the country's football players seemed more excited than nervous.
Team captain Aly Borromeo told PEP.ph (Philippine Entertainment Portal), "We know how the [opponents] are on the field. We're stronger as a team, I mean, team work is gonna be very much evident, so we're gonna score that goal."
The game is crucial to Sri Lanka, "One goal for them is pretty important," explained Aly.
Even if the other team will score that one goal, "we'll still be going through, we'll be qualified."
But such fact doesn't mean they have the reason to feel complacent.
Aly assured the Pinoy fans, "We're not gonna settle back and be confident all the time. We're gonna score some goal."
BIG-TIME AZKALS? The growing support for the team has been inspiring the players to "keep winning games," said Ali.
And how things have changed for the better. "One of the reasons why we are called Azkals is we look for scraps for food," related Ali.
But now, team manager Dan Palami revealed, "The team is in a better position."
However, the kind of support they're mostly getting only helps in alleviating the expenses.
In a matter-of-factly tone, Dan said, "We're spending less. We get discounts sa flight, discounted hotel bookings, which does not really mean that money is getting into the team.
"It's difficult. It costs a lot of money to maintain a football team. With like 25 players and seven staff. That's 32.
ADVERTISEMENT - CONTINUE READING BELOW
"When you travel, when you stay in a hotel, especially when you prepare for strong tournaments, then, you spend a lot more, I mean, going to Germany for training camp, or even just going to the place where you'll compete, just like Sri Lanka."
Are the Azkals getting support from the government?
He replied, "They helped in preparing the venue and the logistics," but overall, the team's financial resources remain, "kulang pa rin."
Dan put much credit on each player, who plays not primarily for money but for the love of the sport.
"When we get to play the game that we love, they are able to get the chance to represent the country, then that brings them happiness and fulfillment," he stated.
THE YOUNGHUSBANDS. The game at the Rizal Memorial Stadium is expected to generate a huge crowd.
Two of the major attractions, James and Phil Younghusband, are equally excited because the Pinoy fans can finally watch the team play.
James stated, "We have the upper hand, Sri Lanka is coming in for the game this Sunday. They have to get a goal so they have a no-no game against us."
Phil, who sustained a hamstring injury from the last game, is "magaling na."
At the lobby of Manila Diamond Hotel, where the ambush interview was held, Phil happily shared, "It hurt kahapon, pero ngayon, magaling na. Siyempre, malungkot ako, I didn't finish the game, and parang we didn't win pero on Sunday, dapat manalo tayo."
He promised "a lot better" play tomorrow. "Handa na kami. Sana manalo. Much ang difference sa pitch, kapag maganda pitch...sana manalo tayo," he said, attempting to speak in straight Tagalog.
And to whom is he dedicating his game?
A pause before answering, "To all the Filipinas."
When pressed to give a specific name, Phil said, "My mom, my sister, Angel."
ADVERTISEMENT - CONTINUE READING BELOW
Yes, his rumored girlfriend will be watching, and he already issued his thanks in advance. "Maraming salamat kay Angel sa sobrang suporta siya, so masaya ako," the 23-year-old football star said.
As for the older brother, he will dedicate his play to "the Philippine flag."
James continued, "It's always a good thing to see the football fans happy."