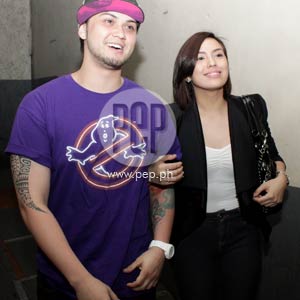 ---
Singer-actress-VJ Nikki Gil is set to star in the 9 Works Theatrical production of Sweet Charity which starts showing on August 5 at the Carlos P. Romulo Theater.
In this local adaptation of the classic Bob Fosse dance musical, Nikki portrays the lead character Charity—a kind-hearted taxi dancer who is trying to find her true love.
In real life though, Nikki seems to be the exact opposite of her character. For the last three years, she has been in a quiet relationship with international R&B artist Billy Crawford.
"[It's been] three years," says Nikki. "I believe [in showbiz] it's like times seven, parang doggie years.
"Not to say that ano, [pero] sobrang challenge 'yon. Definitely it hasn't been a walk in the park."
Though not constantly hounded by intrigues, Nikki says their relationship hasn't been easy to maintain. Especially since they are both busy with their respective careers.
Nikki juggles her time between her TV and theater commitments, while Billy continues to work on his music day in and day out.
So how do they make it work?
"He's busy, I'm busy. [But] we don't ever put that pressure on each other.
"We both understand the demands of our work. He understands the demands of theater, I understand the demands of what he does.
"I mean, he doesn't have a weekend. He works Monday to Sunday and so, with what free time we have, we make do with that."
Does it help them that they don't get to spend a lot of time together?
"It's [actually] good. It helps the relationship. Kasi matagal kayong hindi nagkikita, so you miss each other.
"And by the time we see each other, and when we do see each other, super kuwentuhan kami. Gano'n.
ADVERTISEMENT - CONTINUE READING BELOW
"Parang girlfriends, parang gano'n, so we couldn't be happier."
As for the current status of their relationship, Nikki says it's "peaceful" and "smooth-sailing."
And as with most couples, are they planning to tie the knot soon?
"Well, siya, [he's talked about it] because he's twenty-nine, you know. And 29-year-old men, andun na sila."
"Ako, siguro, I engage in that conversation only because we know that eventually dun din naman pupunta e. Ba't pa patatagalin?
"I mean that's the reason for why you get into a serious relationship anyway, right?
"I mean, you don't get into it for fun. Dun at dun naman ang pupuntahan no'n.
"Yeah, we talk about it but we both know that it's not yet time."
Why so?
"We both have some saving and working to do before we actually jump into [marriage]."
Does she feel that at 23 years old, she's still much too young to settle down? What is her ideal age for getting married?
"Twenty-six, twenty-seven. I don't wanna be too old when I give birth to my children because I wanna enjoy them, and so does Billy.
"He loves kids. He keeps on saying 'I wanna be able to play basketball with my kids.'
"I don't want to be uugod-ugod by the time my kids are teenagers. So, yeah, twenty-six, twenty-seven. I think that's fairly okay.
"I mean, I know in showbiz terms talagang, 'Ay, ang aga,' you know."
"But this is not my life. I mean, I have a life outside of show business. This is my work."
Does this mean that she can see herself ending up with Billy?
"You know, you'll never know, e. There are some people who have been together for seven years and they still don't end up together.
ADVERTISEMENT - CONTINUE READING BELOW
"And there are people who have been seeing each other for two months and they're so sure that they're gonna end up marrying each other.
"So, you can't tell talaga, e. Hindi mo masabi.
"I'm just gonna have to wait till I get there and I'll tell you about it."