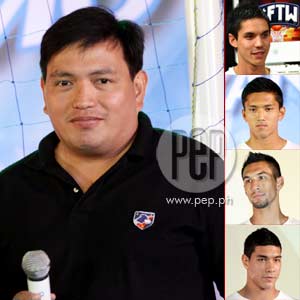 ---
Hot on the heels of the Azkals' victory against Sri Lanka last July 3 was a rumor portraying four of the national football members as "rapists."
Initially, blogs and tabloids claimed the existence of this "sex video scandal" involving Neil Etheridge, Simon Greatwich, Jason Sabio, and Anton del Rosario.
The video never surfaced.
But come July 9, the rumor became a report claiming that what happened was rape.
An unconfirmed email sent by a Paul Weiler, who introduced himself as a former consultant of the Philippine Football Federation (PFF), was forwarded to PEP.ph (Philippine Entertainment Portal).
Weiler labeled the incident as "rape."
A portion of his email read, "I can not live w/ the hard facts that players raped a young Manila woman and that it will be 'okay' for everybody..."
MAJOR CLARIFICATION RE: THE INCIDENT. Two sources, who are friends with the team, categorically denied the "rape" allegations.
The first source, who narrated what he knew to PEP but refused to go on record, became firm in saying, "Of course, it was not true."
He added that the story got so heavily laden with exaggerations. "Una, threesome, 'tapos naging foursome, 'tapos naging rape."
ALL SET FOR KUWAIT. While this tittle-tattle is ongoing, the Azkals are focused on their upcoming match against Kuwait on July 23.
Dan Palami, the team's manager, considers these rumors "unfortunate and unnecessary distractions."
In a phone conversation with PEP yesterday, July 13, he said, "It will be very unfair to act based on the Internet and the claims of a certain German national [referring to Paul Weiler]."
He reiterated, "The person [again, referring to Weiler] who's been talking to media is not in any way related to the team. He's not."
They're leaving for Bahrain, where the football players will train, before flying to Kuwait.
ADVERTISEMENT - CONTINUE READING BELOW
In a text message sent today, July 14, he told PEP that his next move will happen after the investigation.
"It is unfortunate that as we prepare for one of the most important matches, issues that are based on sources that have been proven to be non-credible are being used to malign several members of the team.
"As manager, I will never tolerate actions such as those being alleged, and would certainly take disciplinary action on erring players.
"However, I need more than an internet blog, and a statement of a purported PFF [Philippine Football Federation] Consultant that has been officially disowned by the PFF itself, before i can take action."
Lastly, he's hoping that while the Azkals are out of the country defending the Philippines, the controversy will take a back seat.
His request, "We are trying to focus on the job we have to do..." and hopefully, our kababayans will do the same.
SHARE THIS STORY " data-url="https://www.pep.ph/news/30199/pep-exclusive-azkals-manager-dan-palami-considers-rape-rumors-unfortunate-and-unnecessary-distractio" data-desc="Before leaving for Bahrain, where the Azkals will train, he's hoping that the issue will take a back seat." data-image="https://contents.pep.ph/images2/news/c62f8c5b2.jpg"> " data-url="https://www.pep.ph/news/30199/pep-exclusive-azkals-manager-dan-palami-considers-rape-rumors-unfortunate-and-unnecessary-distractio" data-desc="Before leaving for Bahrain, where the Azkals will train, he's hoping that the issue will take a back seat." data-image="https://contents.pep.ph/images2/news/c62f8c5b2.jpg"> " data-url="https://www.pep.ph/news/30199/pep-exclusive-azkals-manager-dan-palami-considers-rape-rumors-unfortunate-and-unnecessary-distractio" data-desc="Before leaving for Bahrain, where the Azkals will train, he's hoping that the issue will take a back seat." data-image="https://contents.pep.ph/images2/news/c62f8c5b2.jpg">
SHARE THIS STORY
" data-url="https://www.pep.ph/news/30199/pep-exclusive-azkals-manager-dan-palami-considers-rape-rumors-unfortunate-and-unnecessary-distractio" data-desc="Before leaving for Bahrain, where the Azkals will train, he's hoping that the issue will take a back seat." data-image="https://contents.pep.ph/images2/news/c62f8c5b2.jpg"> " data-url="https://www.pep.ph/news/30199/pep-exclusive-azkals-manager-dan-palami-considers-rape-rumors-unfortunate-and-unnecessary-distractio" data-desc="Before leaving for Bahrain, where the Azkals will train, he's hoping that the issue will take a back seat." data-image="https://contents.pep.ph/images2/news/c62f8c5b2.jpg"> " data-url="https://www.pep.ph/news/30199/pep-exclusive-azkals-manager-dan-palami-considers-rape-rumors-unfortunate-and-unnecessary-distractio" data-desc="Before leaving for Bahrain, where the Azkals will train, he's hoping that the issue will take a back seat." data-image="https://contents.pep.ph/images2/news/c62f8c5b2.jpg"> " data-url="https://www.pep.ph/news/30199/pep-exclusive-azkals-manager-dan-palami-considers-rape-rumors-unfortunate-and-unnecessary-distractio" data-desc="Before leaving for Bahrain, where the Azkals will train, he's hoping that the issue will take a back seat." data-image="https://contents.pep.ph/images2/news/c62f8c5b2.jpg">