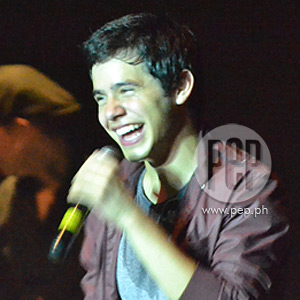 ---
Last night's concert marked David Archuleta's third time to perform in the Philippines but with the warm reception given to him at the Araneta Coliseum, it seems that Pinoys can't get enough of the charming singer.
David first came to the Philippines with David Cook in 2009 and again in 2010 for the launch of his album, The Other Side of Down.
As soon as the American Idol Season 7 runner-up came out on stage singing "Stomping the Roses," audience members started dancing to the beat while others stood up on their seats to get a better view of the American singer.
David kept on jumping up and down and walking across the stage as he performed "The Other Side of Down," culled from his latest album of the same name.
As soon as his song ended, David shouted: "Kamusta kayo, Manila?"
The crowd reacted with cheers and applause as David continued: "It's so good to be back here. It's been amazing."
Wearing a gray shirt and red jacket throughout the concert, David liked to gesture with his hands and walk around the stage.
Some of the songs that he performed last night include "A Little Too Not Over You," "Don't Let Go," and his version of the Tears For Fears song "Everybody Wants To Rule The World."
When he sang "Something 'Bout Love," he gave up mic duties for a while to let the crowd sing their hearts out.
For his next song, production set up a keyboard to let David play. He told the crowd that when people ask him if he likes blondes or brunettes, he points out: "I wonder if she likes to go to a theme park..."
He then sat down on the keyboards to play his song "My Kind of Perfect."
ADVERTISEMENT - CONTINUE READING BELOW
He performed the keyboards for the second time when he played "A Thousand Miles," which he admitted reminds him of his mom.
He expressed his gratitude for his Pinoy fans by telling them: "I would really fly a thousand miles to see you guys."
For one of his songs last night, he sang "Elevator" and asked different sections of the Big Dome to sing along with him. He was very pleased with the results, prompting him to exclaim, "Good job, Manila!"
At around 10 p.m., David said that his last song would be "Zero Gravity." He thanked the audience and went backstage but the crowd kept on shouting, "We want more!"
After a few seconds, David was all-smiles as he went back out and announced, "I'd like to perform a few more songs. You guys are just so amazing. This totally encourages me. This song is what I did on Hollywood Week [on American Idol Season 7]. It's a song called 'Heaven.'"
Before he left the stage, David made hearts flutter with his declaration, "Mahal ko kayo!"
For his final song last night, he went all out in singing "Crush."
FRONT ACT. Wearing a sequined cropped jacket, black gloves and an all-black ensemble, Julie Anne San Jose served as the front act last night.
The GMA-7 singer-actress performed songs such as "Edge of Glory" and "California King Bed."


During the concert, David praised Julie Anne by saying that "she has an awesome voice."
Charice's mother, Mommy Raquel, watched the concert along with Charice's manager, Grace Mendoza.
They revealed that Charice is slated to return to the Philippines in time for the David Foster and Friends concert that will take place at the Araneta Coliseum on October 25.


Based on the strong support shown for David, he can very well be considered a "token nice guy" (a term used in his song "Stomping the Roses") who will always be welcome on Philippine shores.
ADVERTISEMENT - CONTINUE READING BELOW