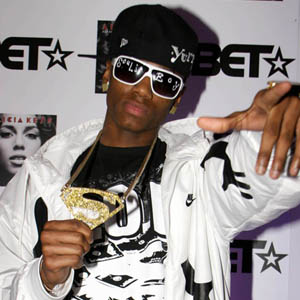 ---
Soulja Boy has spent $55 million on a private jet.
The "Kiss Me Through the Phone" hitmaker has bought himself a Gulfstream G5 jet as a present for his 21st birthday yesterday (July 28).
The jet itself costs $35 million, but Soulja—real name DeAndre Cortez Way—is spending an extra $20 million on customising it, adding 12 Italian leather seats, flat screen TVs, four liquor bars, a special travertine tiled floor, and Brazilian hardwood cabinets.
Gossip website TMZ also reports he will take out the standard lavatory and replace it with a huge, luxurious bathroom and he is also giving the jet a custom paint job which will include his logo.
Soulja Boy rose to worldwide fame with his 2007 debut single "Crank That (Soulja Boy)," and was named the joint 18th highest earning star in hip-hop of 2010 in a list compiled by Forbes, raking in $6 million.
He is also coached in finances and his career by "In Da Club" hitmaker 50 Cent, who experienced a similar sudden rise to fame a few years earlier.
Soulja previously said: "Being black, with money, from the hood, struggles, and coming from nothing to something, of course you're going to share the common struggles. You going to have people hate. You're going to have people that change on you, and all that.
"So of course, watching 50, and him going through what he did, if there wasn't no 50 Cent, there would be no Soulja Boy. You know what I mean?"
Soulja is also splashing out another $300,000 on a party for himself at a Miami nightclub tonight (29.07.11), which Bow Wow and Sean Kingston are expected to attend.