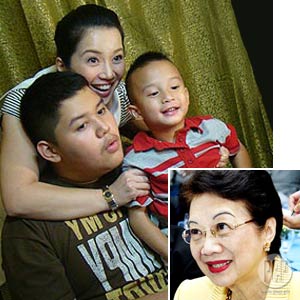 ---
Queen of All Media Kris Aquino is back from a recent trip to Hong Kong with the most beloved boys in her life—Joshua and Bimby.
Kris took a short break from work last Friday, July 29—together with her two sons and Jasmin (Kris's maid for 11 years), Jane (Kris's maid for eight years), and Imelda (Kris's hairdresser for 11 years).
In her official Twitter account, Kris tweeted that it was Jasmin, Jane, and Imelda's first time to travel abroad.
Kris arrived in Manila Sunday night, July 31, just in time for her mom's second death anniversary today, August 1.
As she tweeted in her official twitter account [@itsmekrisaquino] Sunday, July 31 around 5:59 p.m., "Waiting for our plane. It is priceless to have Disney memories with my sons. Tomorrow is mom's 2nd death anniversary, her bilin that I always make time for my sons is firmly planted in my being!"
Cory Aquino passed away on August 1, 2009 after battling colon cancer for more than a year. (CLICK HERE to view related article.)
Around 8:01 in the morning, Kris tweeted, "Mass this afternoon in Manila Memorial for Mom..."
The Aquino siblings will visit their mother's grave at the Manila Memorial Park this afternoon.