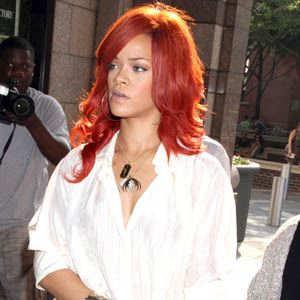 ---
Rihanna has rekindled her relationship with ex-boyfriend Negus Sealy.
The Bajan beauty, who was recently romantically linked to Drake, was spotted enjoying some "hot and heavy" dancing with her former flame—who she dated in 2006 before shooting to fame as a singer—at the Kadooment Day festival in her home nation of Barbados.
A friend said: "Negus has hardly left her side. He was her first true love. The ladies here all love him—they call him the Love God.
"They've hooked up in the past when she's been back in Barbados but now things have progressed into a proper relationship again."
A fellow onlooker added to The Sun newspaper: "They were all over each other and their dancing got very hot and heavy."
Negus—who provided Rihanna with a shoulder to cry on when she split with ex-boyfriend Chris Brown after he assaulted her in 2009—has been spending time at the "California King Bed" hitmaker's villa on the Sandy Lane estate.
The 23-year-old singer is also still "good friends" with ex-boyfriend Matt Kemp—who she split with last December following an 11-month romance—who recently explained the pair still get on well.
He said: "She's a good friend of mine. We're good.
"There's no bad blood between us. We've all got busy lives and we're working on our careers and concentrating on our careers. Like I said, I wish her all the best of luck and she wishes me all the best of luck."
ADVERTISEMENT - CONTINUE READING BELOW