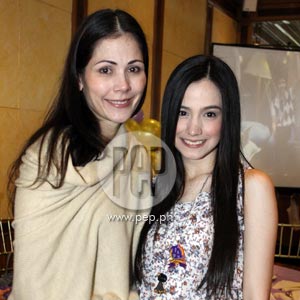 ---
Maritoni Fernandez talks of her daughter Lexi like any pleased and proud mother would. And why wouldn't she?
Lexi, who co-stars along with the young tweens of GMA Films' Tween Academy: Class of 2012 (showing on August 24), is a well-rounded girl and a loving child to her mother.
At the press conference of Tween Academy yesterday (August 4) at GMA Network's Executive Lounge, PEP.ph (Philippine Entertainment Portal) struck a conversation with the twosome.
"As her mom, I am so proud of her. Kasi alam ko bukod sa lahat ng mga talents niya, napakabait talagang bata nito.
"She's very professional, she's loved by her peers, and above it all, she's still a very good student," Maritoni shares whilst an arm around her sixteen-year old gal.
She adds, "Yun ang importante sa akin, yung pinagpapatuloy pa rin yung pag-aaral niya."
Maritoni explains that she and Lexi had a deal: should her schooling suffer, Lexi would have to drop showbiz and focus on her academics.
"It's very hard to balance everything, especially at this stage in her life and being sixteen years old, and becoming popular.
"Kailangan maging level-headed siya lagi, matuto siya mag-balance ng time niya."
Despite the tough act of juggling, Lexi's mother reports that "she's doing very, very well." And for that she commends her daughter.
KONTRABIDA ROLES. Lexi entered the world of acting only last year and has now tested the waters in GMA Network's young adult program Tween Hearts, and afternoon soap Nita Negrita.
ADVERTISEMENT - CONTINUE READING BELOW
In the latter, she delivered a kontrabida performance that could only make an audience remark that she takes after her mother.
To these feats accomplished so far, Maritoni is astounded.
Asked if Lexi asks for advice from the expert herself, a beaming Maritoni elaborates, "Nung umpisa, madalas."
"She's been in showbiz now a full year already. Binibigyan siya ng magagandang breaks ng GMA and so with those breaks come honing of the craft.
"With Nita Negrita she was able to really, really explore her acting. Talagang pati ako, na-wow!"
With a hearty laugh Maritoni joked, "See? Ako na humihinging tips!"
While Lexi takes another mean girl role in Tween Academy—Chloe, a "spoiled, rich girl battling and eating disorder"—Maritoni is not bothered that her daughter is being typecast into kontrabida roles.
"I think it's important na all new actors should try to become a kontrabida because nandun yung challenge, e. Kung magaling kang kontrabida, magaling kang bida for sure.
"Pero hindi porke magaling kang bida, ibig sabihin magaling kang kontrabida. Mas mahirap ang kontrabida."
Having portrayed villain roles for 22 years, Maritoni understands how challenging it must have been for Lexi to be cast as such a character in Nita Negtrita.
She wonders, "Sa'n siya humuhugot ng galing? Pati yung mga ... pagtingin niya na rumurolyo yung mata... sa'n niya nakukuha yun?"
Maritoni was oblivious that Lexi had "been watching her act all this time."
"Alam kong marunong siya kumanta at sumayaw. Given na yun kasi pinag-aralan niya yung sayaw.
ADVERTISEMENT - CONTINUE READING BELOW
"Yung kanta, two years old pa lang, humahataw na 'yan so hilig niya talaga.
"Pero yung pag-aartista... talagang medyo, yung arte, ninerbiyos ako.
"So I wasn't sure kung makakaya niya... Ay naku, daig pa niya ang mommy sa galing!"
RAISING LEXI. While the mother-daughter tandem shares quite a friendship, Maritoni and Lexi still have differences despite beauty and talent being their common ground.
Maritoni describes her daughter as disciplined and responsible, much like herself. And yet, "May differences din kami ni Lexi," she states.
"Because she's very friendly, and I'm not.
"I was trained away from my family. Product ako ng boarding school, and Lexi is [a] product of home," she expounds.
Maritoni likewise reveals, "I was very insecure growing up. She's very secure growing up.
"I think I also purposely did that with her kasi nga yung dahil sa napagdaanan ko [while] growing up, I didn't want her to go through those things also.
"I wanted for her na kahit hiwalay kami ng dad niya, na very secure siya in herself, that she is capable and she knows what she is able to do, and I allow her to explore."
Maritoni believes in setting her daughter free but still involving herself in Lexi's activities and decisions in life.
"Lexi's in her teens, well, halfway through her teens already. I really allow her to explore.
"She will say, 'Mommy can I go to the mall?' Go! Basta merong alalay, go! Hindi nakatutok sa kanya 24/7 yung mga kasama niya.
ADVERTISEMENT - CONTINUE READING BELOW
"She's allowed to explore... and she's also allowed to get into trouble because if you never get into trouble, how will you learn how to get out of trouble?"
MARITONI'S PILLAR OF STRENGTH. In what turned out to be an emotional interview, Lexi was asked if she takes after her mother's strength.
Maritoni was diagnosed with breast cancer back in 1999. She is at present on remission and living a hale and happy life.
When Lexi remarks that she has yet to gain her mother's strength, Maritoni says, "That's not true.
"When I had gone through cancer, siya talaga yung naging pillar ko. Siya yung strength ko."
Maritoni shares that Lexi acted beyond her years, often times saying, "Mommy, kaya mo 'yan!"
Fighting back tears, Maritoni confesses, "Even at 42 kasi, you still go through hard times....and with me, sometimes its relationships.
"Kasi hiwalay ako sa Daddy niya, so I'm still trying to find the right person in my life.
"Lagi niyang sinasabi, 'Mommy, you deserve better.'"
KEEPING BUSY. Maritoni has her plate full these days what with her two kids, Lexi and her six-year-old son, Liam.
She shares with PEP that Blusang Itim, a Kapuso network soap wherein she stars as Victoria, will end very soon.
She anticipates shooting for another drama series that the same network cast her in.
"I'm just a mom, I have a business, and my kids."
The actress still manages to run a household and a career, plus keep a fit and beautiful body!
ADVERTISEMENT - CONTINUE READING BELOW
"I play badminton and I go to the gym. I go to the gym twice a week and I play badminton three times a week."
It's all for health reasons, she says. Maritoni makes it a point to be in shape for her children.
She says, "I don't want to not have the energy for my kids. Like Lexi came home at 5 a.m. (from showbiz duties) this morning.
"By the time she came home, my son was getting ready for school, so I had to get up already!"
NON-SHOWBIZ MOTHER. Although spotted with daughter Lexi at the Tween Academy press conference, it is a rare occasion for Maritoni to be in all of Lexi's activities in the business.
She almost never normally meddles in her daughter's showbiz affairs.
It becomes an exception however, Maritoni shares, "when she [Lexi] asks."
"Like this morning, she woke me up, she said, 'Mommy, you should come with me.'
"So of course I would make an effort when she asks me to come, but most of the time, hindi talaga.
"I'm really not a showbiz mom. Sa background lang ako for her."
Despite this non-interference, as a mother to her daughter, Maritoni applies a hands-on style.
"I try to know all of my daughter's friends. I'm not a parent [na] walang pakialam kung sino yung barkada niya.
"I know them all... Because I get to meet them, I know them. So I tell her, 'O ingat ka sa ganyan.'
ADVERTISEMENT - CONTINUE READING BELOW
"I advise her pa rin. Now if she still chooses to be with the ones I don't think are good friends, later on when she gets hurt, she still comes back to me. [Lexi says,] 'Mommy I was hurt, you were right.'"
Such a bond in relationships are rare these days. The Fernandez ladies are lucky to have each other.