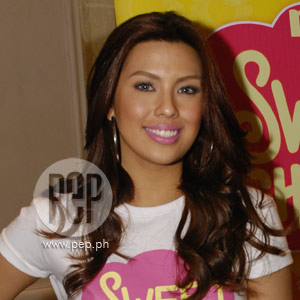 ---
Nikki Gil stands out as the titular character in 9 Works Theatrical's Sweet Charity.
This Broadway musical was conceived and choreographed by the legendary Bob Fosse and is produced locally by director Robbie Guevarra and executive producer Santi Santamaria.
At the RCBC Plaza's Carlos P. Romulo Auditorium during a special screening in the first week of August, PEP.ph (Philippine Entertainment Portal) had the chance to chat with the TV host-actress.
Nikki portrays Charity Hope Valentine, a dance hall hostess whose services are paid for by the hour, much like a taxi dancer, where everything done is metered.
The whole play is about Charity's (mis)adventures with love, hope and ultimately life, and as Nikki said, "it's something we all can relate to."
When asked if Nikki drew from real-life heartache for a pivotal scene in the play, she giggles and says, "This is tricky because I've only had one ex, so kapag may sinabi ako, alam na nila, kasi isa lang naman ex ko. So, no naman.
"I've seen and come across people like that, pero as for me, wala naman ganoon nangyari."
She says that she is lucky that she has not been swindled because of love or heartbroken the way her character Charity was.
Nikki's boyfriend, Billy Crawford, watched Sweet Charity along with her family members. The ABS-CBN actress reveals that he has been very supportive of her budding theater career.
When asked to reveal the secret of her three-year long relationship with Billy, Nikki candidly said, "We keep it away from the limelight and the fact that we try to separate what we do from what really takes place in our relationship. We keep to ourselves, I think that's key to a lasting relationship in the business."
ADVERTISEMENT - CONTINUE READING BELOW
Wise and practical words from a 23-year-old star who has definitely grown and matured in front of our very eyes.
So, do they still get to surprise each other?
Nikki shrieks excitedly, "It's been a while since... I can't remember.
"But our anniversary is coming up! I can't wait to see what he has up his sleeve.
"He's the more romantic one between the two of us. He's more ma-effort, he's the one taking charge of our relationship.
"I really like that. Any girl would love to have that.
"The sweetest thing he's done for me is [to show] how proud he is of me, how happy he is, so it takes a man to actually go up and say he is proud of his girl."
WORKING WITH KRIS LAWRENCE. PEP took this opportunity to ask Nikki how it was like to work with Kris Lawrence, the R&B star tasked to take on Oscar Lindquist, the nerdy and problematic numbers guy who ends up, like Charity, learning a thing or two about love and life, the very hard way.
Nikki advised Kris before they began their colorful journey into the world of theater together, "Tayo ang underdog, tayo ang bago dito kaya effort na lang tayo."
Incidentally, Sweet Charity is Kris's first time on stage. Nikki praised her co-star by saying, "Nag-bloom si Kris, galing."
She says that she saw "myself in him, kasi some eleven months ago, last year, I was that, when I first got into theater.
ADVERTISEMENT - CONTINUE READING BELOW
"I was the one getting all the criticism, raised eyebrows, 'What is she doing there?' 'She's never had theater experience before.'
"And so I saw myself in Kris and I really saw his dedication and how hard he worked for it.
"This is something that is completely like, different from what he is used to, he is an R&B singer, for crying out loud!" she exclaims.
Nikki says that she never had the big shift and radically different background that Kris had to deal with.
She enthuses, "The adjustment that he had to do, vocally, Kris is a suwabe person, he's R&B, he's cool, he's sexy.
"But to be like this nerd, who is claustrophobic and OC [obsessive compulsive], it's just such a transformation. I'm really proud of Kris."
TACKLING ROLE AS SWEET CHARITY. When asked how she prepared for the pivotal heartbreak scene, Nikki says, "It was pretty difficult because for the most part of the show, at least 98 percent of the show, I was happy, I was a happy person, and I couldn't care less if this person threw me in the water and I'd get back up again... but I guess it comes with not living it but being Charity."
She explains it like this: "In the last three hours, I was Charity and I felt like 'kawawa naman this person,' and I was thinking of people who could be in her position na 'I have so much love to give' and no one wants her, and when she finally does, when she finds someone, she actually leaves her life behind, throws it all away and she's ready to start a future with this person, and this person says, 'You know what, no pala, I don't really like your job, what you've gone through, you're used' and she felt like dirt."
ADVERTISEMENT - CONTINUE READING BELOW
Nikki says that what she did for Sweet Charity is very far from who she is in real life, and that it's "harder than what I had to do before because it's a period comedy, as opposed to Legally Blonde or Avenue Q, they are both comedies but very new, very now.
"So of course yung humor, pareho. This is different, but it's a classic, so it worked back then and it will still work now."
Nikki jokes that her dance moves are "ang abangan n'yo na pinaka-launch ng dance profession ko!"
For her, dancing and singing together always take so much effort.
"It's always such a stretch for me!"
The Bob Fosse style is so well defined that, as Nikki puts it, "you have to study and you can't wing it."
So of course Sweet Nikki had to get herself into some serious dance training.


Nikki felt that working in Sweet Charity was both intimidating and a privilege to be working alongside seasoned performers and award-winning thespians like Caisa Borromeo.
She continually told herself, "I gotta give more because these people are fantastic!"
She's also very thankul for them because, "there's always such a good feeling to be working with people who are so good at what they do but so down to earth so as to assist you when you have questions."
She says that she still isn't "kampante" even though she's already hurdled several steps in theater world.
ADVERTISEMENT - CONTINUE READING BELOW
"It's the one thing I still am not and I never was in this production.
"If anything, I worked even harder in this musical.
"Legally Blonde was vocally challenging but this one, putting together the dance moves and the singing, quite a challenge for me!"
Nikki tells us that working in theatrical productions like these made her realize "how far I could stretch my patience and not be too hard on my self. The positive thing is that I realized how far I can go in terms of patience and training."