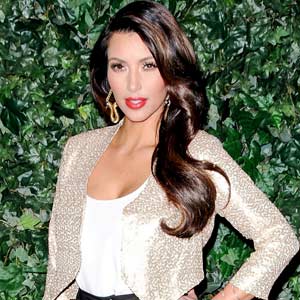 ---

Kim Kardashian says all of her "freak out" moments are over ahead of her wedding today (August 20, U.S. time).
The reality TV star will marry basketball player Kris Humphries in a lavish ceremony in Montecito, California, today, and while planning the huge event has been stressful, she is finally over her nerves about the nuptials.
Speaking to Radio host Ryan Seacrest on his KISS FM radio show, Kim said: "I think I had my freak-out moment a week ago.
"From Kris's dogs in my space to his shirts on the floor to going over budget to everything you could possibly think of.
"I mean, it's ridiculous issues that I guess everyone goes through. Planning a wedding is so much work. I had no idea."
Kim, 30, also added how much she is looking forward to settling down, and how she knew right away Kris was the right guy for her.
She said: "When you know, you know. We're having so much fun; we just get along so well, he just lets me be me. And we have such a good relationship. It's such a normal, healthy, trusting, easy relationship."
Kim spent her last night as a free woman relaxing with her family, and playing with her 18-month-old nephew, Mason.
Her mother, Kris Jenner, has also urged her to "remember everything" about her special day.
She told Life & Style magazine: "I want her to enjoy every moment and take mental snapshots and just try to remember everything because it goes by so fast.
ADVERTISEMENT - CONTINUE READING BELOW
"You know it's going to be over in the blink of an eye, and I just want her to remember every single second.
"The good news is we have a camera crew there to capture the whole thing in case she forgets anything."