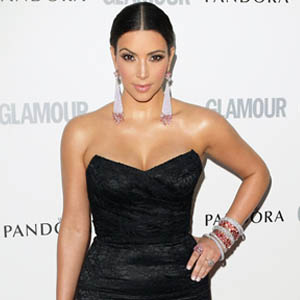 ---

Kim Kardashian's wedding reception was cut short after neighbors complained to the police.
The celebration following the reality star's nuptials with basketball player Kris Humphries in Montecito, California, on Saturday (August 20) was set to last until 4 a.m., but a fire marshal ordered the music to be turned off at midnight.
A source told the New York Post newspaper: "Around midnight DJ Cassidy, who had been spinning for an hour, was ordered to shut down because the neighbors were complaining about the volume of the music. The neighbors didn't come over, but they called the police.
"Kim took the news OK and seemed relaxed about it, but her sister Khloe was pretty upset."
The party continued without the music for a while longer, but most guests had left by around 1.30 a.m. on Sunday (August 21) morning.
Guest Ryan Seacrest tweeted afterwards: "Beautiful ... Kim looked regal, a perfect night. I just danced w the whole family. (sic)"
The evening's festivities—held in a huge marquee erected in the garden of a private residence—had started with singer Robin Thicke introducing the couple and leading them in their first dance, before speeches from Kim's mother Kris Jenner and stepfather Bruce Jenner, the groom, then Kim's sisters Khloe and Kourtney, who shared maid of honour duties.
The speeches were followed by a set from funk act Earth Wind and Fire, before the couple cut their wedding cake. Kim had changed into her third Vera Wang dress of the day ahead of her cutting the multi-tiered chocolate-and-vanilla swirl cake studded with chocolate chips.
ADVERTISEMENT - CONTINUE READING BELOW
Celebrity guests at the reception included Lindsay Lohan—who was pictured looking ready to fall asleep in the passenger seat of a car as she left—Eva Longoria, Mel B, tennis players Venus and Serena Williams, Avril Lavigne, and Demi Lovato.
The happy couple were then seen emerging from the Montecito hotel where they spent their wedding night on Sunday morning (August 21), looking fresh faced.
Kim wore a white Juicy Couture tracksuit with the words 'Mrs Humphries' written on the front.