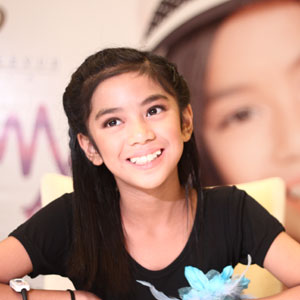 ---
In an interview with Maria Aragon last Wednesday, August 24, at Bellevue Hotel in Alabang, PEP.ph (Philippine Entertainment Portal) discovered that she experienced riding the jeepney and tricycle for the first time.
Have you tried riding the jeepney?
"Jeepney? Oh yes I did!" she cheerfully revealed.
"When we were in Mandaluyong, I had a courtesy call for Mayor Abalos and a, after that we ate up with my family.
"A, on one of our trip to somewhere in Mandaluyong, I took a jeepney and a tricycle with my tita."
Maria even added that she got a chance to say "Para!"
Then she added, "There were some people who saw me and they knew who I was, but it was really fun.
"Tricycle, it's so bumpy on the tricycle, but it was a very, very cool experience. A, it was really fun getting to do two of the things that Filipinos do everyday."
MEETING THE VICE PRESIDENT. Maria got a chance to meet Vice President Jejomar Binay on a courtesy call that was held at the Coconut Palace in Manila last August 11, Thursday.
"A, I think that all the people on his team especially him, were super nice.
"I had really fun time singing for him and getting to meet him is such privilege and he's just very amazing, very nice."
Even though she did not grow up here, she loves the Philippines and loves the Filipino community.
"Philippines is very beautiful place full of very, very beautiful people.
ADVERTISEMENT - CONTINUE READING BELOW
"A, everybody is very, everybody is very, what do you call this…we're all kind of together [sama-sama].
"We're all very kind to each other and we respect each other and that's what I find very beautiful about the Philippines," she explained.
She has also been to Ormoc, her mom's hometown in Leyte.
"Yes, I went there to visit my mom's side of the family.
"A, I didn't understand people coz they speak Bisaya, but a, good thing my mom was there.
"Kids came to my mom's house from the school on their break and I got to meet them and they were so cute and so very nice.
"Good thing my mom was there, so I could connect with them and I speak a little bit Tagalog," she added.
"Also about Ormoc, I think it was very beautiful there, and I mean here in the city it's so crowded but in Ormoc, it's so peaceful.
Maria also revealed if ever she visits the Philippines again, she would love to go to Bohol.
"Bohol, I wanna visit the chocolate hills there coz I think it's very cool.
"Oh and yeah, yeah I wanna see the tarsiers," she giggled.
TRIVIA. Maria said she tried one of the street foods in town.
"I can't have seafoods coz most of them they sell like fishballs, stuffs like that, but yesterday we had barbecue," she enthused.
Any Filipino words you've learned while you're here?
ADVERTISEMENT - CONTINUE READING BELOW
"A, not Filipino words," she grinned.
"A, keribels, bonggacious, keri bom bom," Maria laughed.
"But I've learned different words, but I really don't use them a lot."