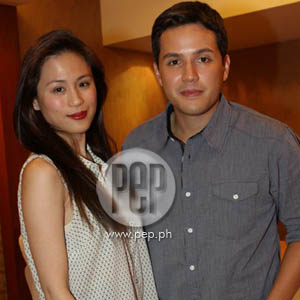 ---
It was an exciting experience for the studio audience of The Buzz yesterday, August 28, to see one of its hosts, Toni Gonzaga, conduct the interview herself with Paul Soriano.
Looking a little nervous and more excited, Toni welcomed her real-life boyfriend onstage as the fans cheered.
Earlier, it was revealed by the showbiz talk show that Paul might pop a question for Toni after her usual questions.
But before all that, a little was revealed about the director.
Paul's dad, director Jeric Soriano—thru a VTR presentation—described his son this unique and heartwarming way:
"He'll listen not only to your words, but also to your heart.
"What makes Paul happy is when he sees his mother and me happy.
"Paul will drop everything if you need him and his help. He will be there for you.
"He totally wants your life to be good and well. Whatever he can do for you to achieve that, he will do that for you.
"That's my son Paul."
BEING THERE. After the VTR special, it was time for Toni to interview her boyfriend one-on-one.
Is it really true that he'll do everything to make his friends and family happy?
"Of course," Paul began. "I love my family. I'll do everything for them and they'll do everything for me."
"I think I'm part of the family as well," mused Toni amidst the crowd's cheerful approval.
"Honestly, na-touch ako kasi lahat ng sinabi sa VTR, you're all that and more.
ADVERTISEMENT - CONTINUE READING BELOW
"Kung alam lang nila, your dad, when he said that you don't just listen to my words, you also listen carefully to my heart.
"There are times when I don't have to say anything. Alam mo na agad... you will never stop making me happy pag nakita mo na malungkot ako.
"Hindi lang siya ganoong tao sa relasyon. Kahit sa magulang niya at kaibigan niya, he will drop everything just to make them happy.
"He'll put the happiness of other people first."
After this outspoken sentimental introduction on Paul, Toni asked him, "Bakit ka ba ganoon? Masyado kang mabait?"
He said, "When you gave me your heart four years ago, when I met you...When I got your heart, I just don't want to listen to your heart, I also want to take care of your heart.
"Whatever makes you happy makes me happy."
BEST GARY V CONCERT. Showing Paul a poster of a Gary V at 23 concert, Toni made Paul remember what significance the event had for the two of them.
Smiling, Paul answered, "I think it was the best Gary V concert that was put together, personally!"
Toni revealed, "It was the very first time I met direk Paul Soriano.
"That was 2006. I remember sabi ni Tita Angeli [Pangilinan-Valenciano] sa akin, 'May ipapakilala ako sa iyo. Napakabait na tao. Kahit lamok hindi niya kayang makasakit! He always has these good intentions para sa isang tao.'"
Toni then related Paul's three words when he left. He said, "God bless you."
ADVERTISEMENT - CONTINUE READING BELOW
Smiling, Paul asked in turn, "So what did your heart say?"
"When you said those words to me, and then you walked out, it was a blessing I felt on my part," Toni said, blushing.
She added, "Then you visited me the next year pa na nagpahiwatig na you have the intention."
SAM MILBY. The next thing Toni showed Paul was a video of her with then love team partner Sam Milby.
Without asking, Paul offered his explanation. "Sam Milby's a good-looking guy. I mean, who wouldn't get jealous?
"I remember this. I was at home and then they played this music video.
"I believed you guys were in love!"
"Tumawag ka sa akin," laughed Toni.
She then revealed to the audience, "Sabi niya sa akin, 'Am I interrupting your love scene? I think nakakasagabal ako sa love scene n'yo.'"
Paul, on the hand, said, "But you guys are a powerful love team. But off-cam, we're a pretty good love team."
THAT RAPID-FIRE QUESTIONNAIRE. This time, it was the Toni Gonzaga style of questioning, meaning Paul's answer should only be either "Yes" or "No."
Paul sat fully at ease as his girlfriend read her long list of hard-hitting questions.
"Are you happy with the performance of Maja Salvador sa pelikulang ito?" (Toni is referring to Thelma, a film directed by Paul.)
"Yes."
"Sa tingin mo ba happy din ang mga tao bilang director nila sa pelikulang ito?"
"Yes."
Toni quickly switched themes by suddenly asking, "Have you ever cheated on me?"
ADVERTISEMENT - CONTINUE READING BELOW
"No!"
"Very good!" laughed Toni.
Switching back, she asked, "Are you expecting an award after this film?"
"Yes."
"Pang-best actress ba si Maja sa pelikulang ito?"
"Yes."
"Niligawan mo ba si Maja?"
"Nooo!" drawled Paul.
"Nag-date ba kayo ni Maja behind my back?"
"No!"
"Would you rather text Maja than me?"
"No!"
"Were you upset noong na-link kayo ni Maja?"
"Yes."
"Are you confident sa pelikula mo na Thelma?"
"Yes."
"Bilang director, sa tingin mo ba naka-level mo na sa husay ang daddy mo?"
"No."
"Takot ka pa rin ba sa daddy ko?"
"Yes!" Paul answered with a laugh.
"Naiinis ka pa rin ba sa age natin? May curfew pa rin ako?"
"No."
"Sa lahat ng pagod at intriga, was Thelma worth it?"
"Yes."
"Sa lahat ng pagod at intriga na pinagdaanan sa relasyon natin, am I worth it?"
"Yes!"
While the cheers were still ringing and Toni still blushing, it was time for Paul to ask his own question. "I wanna ask a question also," Paul said.
"Everyone's asking me besides the film, you know, like when are we getting married? What I'm trying to say is, 'When will you be ready?'"
"I will be ready when..." Toni gave out names of the sponsors.
Ultimately Toni didn't answer Paul's question, much to the audience's disappointment.
But Paul, who was still as game as ever, just smiled and thanked everyone instead.