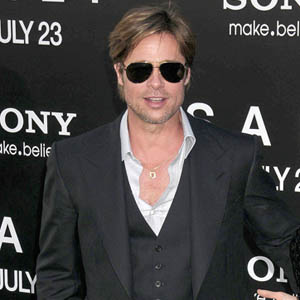 ---

Brad Pitt saved a woman on the set of World War Z from being trampled.
The 47-year-old actor was shooting battle scenes for the horror apocalypse movie in Glasgow, Scotland, with 700 extras when the actress fell to the ground in the melee.
Quick-thinking Brad scooped her up in his arms and put her back on her feet before she faced the risk of getting badly injured.
A source told the Scottish Sun newspaper: "Lots of people hurt themselves and Brad came to the rescue of one woman who slipped. I don't think she could believe it when Brad picked her up.
"He didn't have time to speak to her as it was mid-shoot. But she said afterwards how grateful she was, despite having a grazed knee."
Although the actress had her very own Hollywood hero to save her, many of the other extras weren't so lucky and were left with injuries following the dangerous battle scene.
The source added: "Loads of extras suffered bumps and scrapes. One extra playing a soldier was even hit by a moving car and ended up on the vehicle's bonnet, but fortunately he escaped unhurt."
Brad has been in Scotland for the past few weeks filming scenes for the movie, and he and his family—partner Angelina Jolie and their six children, Maddox, 10, Pax, seven, Zahara, six, Shiloh, five, and three-year-old twins Knox and Vivienne—have been staying at a rented 16th century mansion in the Ayrshire hills.