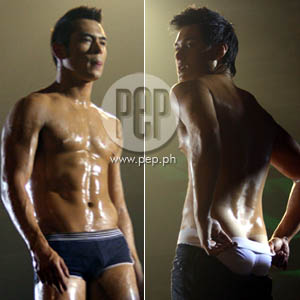 ---
What do honey, scissors, softdrinks, and roses have in common?
They were all props used by the celebrity centerfolds and bachelors during last night's Cosmo Bachelor Bash held at the World Trade Center.
Dozens of sexily clad men took turns showing off their buff bodies and engaging in surprising acts to excite the crowd even more.
At one point in the evening, several men turned their backs on the crowd and took off their briefs to reveal their shapely butts, much to the delight of the crowd.
The event marks the release of the Cosmo Men supplement included in the September issue of Cosmopolitan Magazine.
Those unable to attend the "beyond hot" event last night will still be able to view hot hunks featured in the supplement that features a "naughty nautical" theme. (CLICK HERE to view photos taken during the 2011 Cosmo Bachelor Bash.)
ENRIQUE GIL. One of the talked about incidents of the show was when Enrique Gil slipped up on the ramp.
ADVERTISEMENT - CONTINUE READING BELOW
The 19-year-old actor was actually the last centerfold to heat up the stage that night.
Enrique went down on his knees and stretched out his arms to display his well-toned muscles. The actor lived up to his promise by showing his best physical asset: his butt. (CLICK HERE to read related story.)
He wore low-cut jeans that gave people a peak of his white briefs. when he reached the end of the ramp, Enrique showed off his sexy behind by lowering his pants even more.
He even grabbed his briefs and motioned as if he were about to lower to reveal his butt but he didn't go all the way.
As Enrique made his way back to the backstage, he suddenly fell down since the ramp was wet from the liquids used as props.
Unfazed, the teen actor simply stood up and continued with the show.
Enrique then asked a lady to join him onstage. She was the envy of a lot of girls that night when she got to pour honey all over the half-naked torso of the young actor.
ADVERTISEMENT - CONTINUE READING BELOW
PAULO AVELINO. Another centerfold who made use of props was Paulo Avelino.
He started his turn by pulling out scissors from his pants. He twirled it around his index finger as he walked towards the end of the ramp.
Everyone's curiosity was satisfied when he used the scissors to cut open his pants to reveal white briefs underneath.
People thought he was already finished when he suddenly returned to cut his briefs! It turns out that Paulo was wearing black briefs underneath to keep him well-covered.
OTHER SIZZLING HUNKS. Brazilian-Japanese model Hideo Muraoka appealed to the romantic side of people when he carried white and red roses and distributed these to lucky girls in the audience.
Azkals player Anton del Rosario got a lot of screams from the crowd when he gave a peek of his butt.
Two-time Cosmo centerfold Ejay Falcon showed his confidence on the ramp as he poured softdrinks all over his body.
ADVERTISEMENT - CONTINUE READING BELOW
Another centerfold who poured water all over his body was Enzo Pineda.
Ahron Villena confidently faced the crowd and lowered his pants to show his toned muscles.
NO-SHOW. As the cover of the Cosmo Men supplement, Phil Younghusband was supposed to lead this year's batch of celebrity centerfolds.
However, he and his brother James were unable to attend the Cosmo Bachelor Bash since their mother died last September 10.
The burial took place on September 15, on the same day of the Cosmo Bachelor Bash. (CLICK HERE to read related article.)
Aly Borromeo was also unable to attend even though he is featured in the Cosmo Men supplement.
COSMO HUNKS. Kris Lawrence was the first celebrity to be on stage as he sang "DJ Got Us Fallin' in Love Again." After his song number, he bared his shirt to warm up the crowd.
Atticus King, the ex-boyfriend of Iza Calzado, first showed his guitar skills before exhibiting his muscular body.
ADVERTISEMENT - CONTINUE READING BELOW
Singer-turned-actor Kean Cipriano wore his trademark shades as he sang topless, allowing the crowd to appreciate the many tattoos that adorned his body.
Rafael Rosell did some smooth capoeira moves, while Mike Tan surprised the crowd by quickly removing his pants to uncover his black briefs.
Aljur Abrenica had "sexier you" written across his well-developed chest.
Posing in his underwear isn't new for Jake Cuenca but being part of the Cosmo Bachelor Bash is. His body glistened as he walked down the ramp wearing nothing but briefs.
Rocco Nacino danced up a storm that was well received by the crowd.
Mark Herras came out wearing a white sleeveless top that he promptly tore apart to reveal the skin art on his back.
Brazilian-Japanese hunks Daniel Matsunaga and Fabio Ide tantalized the crowd together with their sizzling hot bodies.
Some of the Cosmo hunks that night included Manuel Chua, Jommy Teotico, Jose Sarasola, Geoff Taylor, and Brent Javier, Rodjun Cruz, Dominc Roco, and Felix Roco.
ADVERTISEMENT - CONTINUE READING BELOW
Celebrities spotted watching the Cosmo Bachelor Bash were Denise Laurel, Michelle Madrigal, Phoemela Baranda, and Dianne Medina (girlfriend of Rodjun).