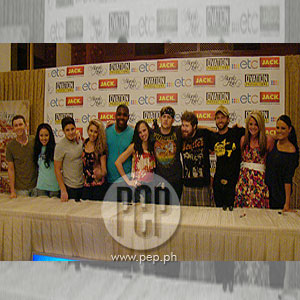 ---
Food trips, sight-seeing, and interacting with the locals — these are some of the activities on the "to do" list of the finalists of the most recent season of American Idol.
The group arrived in the country yesterday, September 17, for a two-night concert at the Araneta Coliseum on September 21 and 22.
From the airport, the "Idols"—namely Scotty McCreery (AI winner), Lauren Alaina, Haley Reinhart, James Durbin, Jacob Lusk, Casey Abrams, Stefano Langone, Paul McDonald, Pia Toscano, Naima Adedapo, and Thia Megia—were whisked to the Manila Hotel to meet the press.
Then the group was brought to the GMA-7 network to promote their concert in Manny Pacquiao's game show, Manny Many Prizes.
Aside from promoting their back-to-back shows, the Idols are looking forward to doing any of the following things (given some free time, of course):
Lauren wants to go to the beach.
"Well, first, I've never been outside the United States. The first was [our tour] in Canada. I'm so excited to meet all these people because everyone is really loving here. And maybe do some beach trips. I'm so excited about that," she told media.
Likewise, Paul and Stefano said they hope to take short road trips.
&nb
"The place is beautiful. I can't wait to go outside and experience it more," Stefano said.
Many of them said they want to try the local food.
"The food is amazing!" Pia said.
This was seconded by Casey and Jacob, who said they like ube and pandesal.
"I'm looking forward to eating," Jacob added.
Scotty, on the other hand, said, "I'm really a burger-and-fries kind of guy, but I'm looking forward to trying some new food."
James commented about the local beer.
"The beer here is great," said the heavy metal singer and guitar player.
ADVERTISEMENT - CONTINUE READING BELOW
Jacob wants to go shopping.
"I'm excited to shop! Yes, It's the place to shop, shop, shop! So, can I get some great shopping deals?" he quipped.
Shopping is also on Haley's "to do" list. Her mother, who had visited the country, highly recommended it.
"I can't wait to buy some clothes for my mother. She's been here and she told me to check out a lot of different shops so that's gonna be amazing," she said.
Naima, on the other hand, is curious about Filipino culture.
Most of the Idols commented about the warm welcome they got at the ariport.
"Our fans are incredible. I mean, meeting us at the airport, it was a pretty cool experience," Pia said.
"And I think, you guys are really polite and we appreciate it," Casey added.
Of course, Thia, has a different wish on this tour. The Fil-Am finalist has not been in the country since she was four.
"It's so good to be back. It's really nice to be back," she said. "I'm just really looking forward to... seeing my roots, seeing my family again. I miss them so much... I'm really looking forward to seeing them."
And before returning to America, Thia said, "I'm really looking forward to seeing the Idols have a good time and enjoy their stay here in the Philippines."