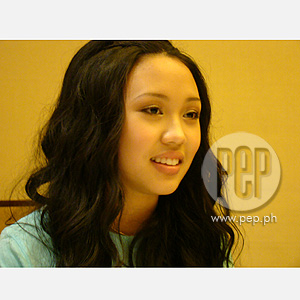 ---
Filipino-American Thia Megia has never been in the Philippines since she was four years old.
So, excitement really got into her when she and the ten other American Idol Season 10 finalists were invited to wrap up their American Idol Live Tour concert series in Manila.
The "Idols"—namely Thia, Scotty McCreery (AI winner), Lauren Alaina, Haley Reinhart, James Durbin, Jacob Lusk, Casey Abrams, Stefano Langone, Paul McDonald, Pia Toscano, and Naima Adedapo—arrived last Saturday, September 17, for their back-to-back concerts on September 20 and 21 at the Araneta Coliseum.
"This is completely unexpected that they asked us, for the finale, they asked us to perform in the Philippines. We all said yes at the same time," said Thia.
PEP.ph (Philippine Entertainment Portal) and other members of the press interviewed her after the media junket prepared for them at the Manila Hotel last Saturday afternoon.
Thia added, "My mom was crying because she's been wanting to visit home for a very long time.
"Also, I've been promising her that, 'I'm gonna take you one day, Ma.' I didn't think that I'd be here with my Idol family."
Thia mentioned that while she's here, she and her mom will be meeting their relatives in Manila and Pampanga.
"I'm just really excited to learn more about my culture and my roots. And just seeing my family again, I haven't seen them for long," she said.
After the concert, Thia will stay in the country for another week.
According to her mom, Cynthia Megia, her sister will be coming home, too. They also have plans of going to Boracay during their short vacation.
THIA LOVES KARAOKE. In a separate interview with Thia's mother, she mentioned that her 16-year-old daughter also likes singing karaoke songs, which is a very common hobby of a lot of Pinoys.
ADVERTISEMENT - CONTINUE READING BELOW
Her favorite Tagalog karaoke piece is "Dahil Sa 'Yo."
However, Thia said that her relatives have grown tired of hearing her sing this OPM classic. So, she had to find a new Tagalog song to perform for her family, and this was Martin Nievera's "Kahit Isang Saglit."
She related, "I love 'Dahil Sa 'Yo.' Don't ask me to sing it because I haven't memorized the lyrics. Same thing for 'Kahit Isang Saglit' by Martin Nievera.
"I started singing karaoke, actually, during a party. My family asked me to sing a Tagalog song and I was like, 'Dahil Sa 'Yo?' And they're like, 'No, we already have enough. Just try a new song.'
"So, I had to have my uncle sit by me and help me pronounce words [of Kahit Isang Saglit].
"They were actually surprised 'cause, I don't know, I can't really speak Tagalog and I can pronounce the words well with this song.
"It's really one of my favorites. I know it's a sad song but it's really beautiful. I hope I have an opportunity to sing it here."
Thia said she's planning to sing it for her cousin who passed away recently.
Meanwhile, PEP asked Thia if she has plans to pursue a career in the Philippines.
She said there are no offers yet but, "I would love to explore the opportunity. I would love to be able to come back and forth and visit.
"It would be great to collaborate with the other Filipino artists."
Her mom sees no problem about it but she's not pressuring Thia to pursue her singing career right away.
"Sinasabi ko sa kanya na, 'Bata ka pa, huwag kang magmadali, mag-aral ka muna.' Sa tour, talagang nahihirapan siya dahil sa tour," said Cynthia.
ADVERTISEMENT - CONTINUE READING BELOW
Meanwhile, there is an unconfirmed report that Thia will sing the National Anthem of the United States of America at Manny Pacquiao's fight against Juan Manuel Marquez in November; while Fil-Canadian Maria Aragon will sing the Philippine National Anthem.