Senator Alan Petert Cayetano has officially conceded to leading vice-presidential candidate Camarines Sur Third District Representative Leni Robredo.
As of 12:45 P.M. Thursday, May 12, partial and unofficial election results show that Robredo and Senator Bongbong Marcos are still closely vying for the vice-presidential post with 13,981,789 and 13,769,527 share of votes, respectively.
In his official statement today, Cayetano claimed that Robredo "clearly won" the vice-presidential race.
He said, "It is often said that the voice of the people is the voice of God.
"In this regard, I humbly concede my vice presidential bid to Rep. Leni Robredo, who, by all accounts and with 96% of the votes already tallied, is our country's presumptive Vice President-elect. Rep. Leni is not only leading the race, she has clearly won it."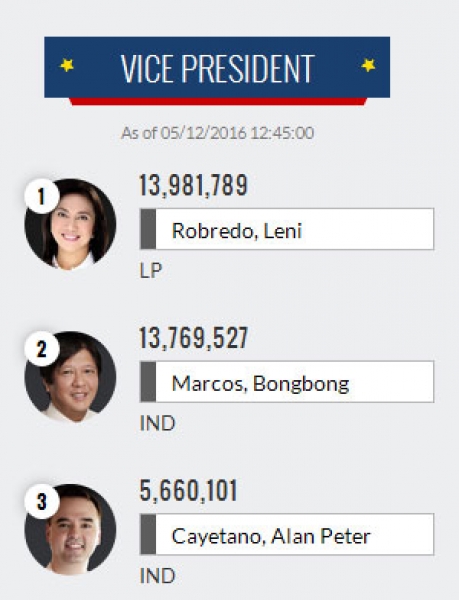 Cayetano also called for "healing" and "unification" following the strong rivalry among candidates and differing preferences of voters at the peak of the 2016 elections.
He said, "While losing an election hurts, nothing is more painful than the sight of a divided country.
"Thus, I call on all the other candidates to respect the people's will and rally behind presumptive President-elect Rodrigo 'Rody' Duterte and his presumptive Vice President-elect Leni Robredo."
Cayetano also said that he is confident that Robredo will support Duterte under the new administration.
Robredo, in turn, expressed her gratitude to Cayetano for supporting her bid for vice presidency.