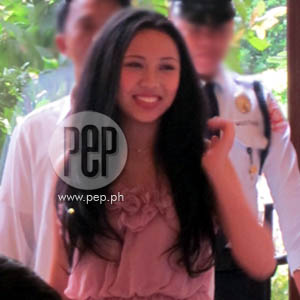 ---
Natawa si Thia Megia nang tanungin siya ng PEP.ph (Philippine Entertainment Portal) tungkol sa kanila ng American Idol Season 10 winner na si Scotty McCreery.
Marami nga ang nagsasabing bagay silang dalawa at may ilang members ng media ang nakapansin na parang may crush si Scotty kay Thia.
"Really?" tawa ni Thia nang hingan ng reaksiyon dito.
"Oh, wow, that's something new!
"I'm very close to all the guys in our group. They are a great bunch of people.
"And I love hanging out with them, especially during our tour, we all became so close for the past two months of our tour.
"We all share so many things and we are all working hard for every show we do.
"With Scotty, well, he's such a quiet person. He's the type who would be in a corner, learning his songs.
"But there are times he's just one of the boys who want to have fun and be running around the place.
ADVERTISEMENT - CONTINUE READING BELOW
"I had a few moments with with Scotty and he's such a genuine person.
"He's very giving, very nice, and very sweet with everybody.
"I'm not one to say if he has a crush on me. Maybe it must come from him.
"But all in all, he's a very nice person and any girl would be lucky to have him as a boyfriend."
Sa edad ngayon ni Thia na 16 years old, ready na ba siyang magkaroon ng boyfriend?
"I would love to," mabilis na sagot niya.
"But I still have to know for myself if I'm ready.
"It will be a big step for me because I've never experienced having a boyfriend.
"I only heard stories about it from friends but, in reality, I still have to find out for myself.
"If ever this person who will be my boyfriend is out there already, I just hope that things will work out between us.
ADVERTISEMENT - CONTINUE READING BELOW
"I want him to get to know me and my family. My family's approval is very important to me."
PACQUIAO FIGHT. Ibinalita rin ni Thia sa PEP na siya ang aawit ng U.S. National Anthem sa laban nina Manny Pacquiao at Juan Miguel Marquez sa Las Vegas sa November.
Kinausap daw siya ni Manny nang mag-guest si Thia sa show ng Pinoy boxer na Manny Many Prizes, at sinabing siya ang gusto nitong umawit ng U.S. National Anthem na "The Star-Spangled Banner."
Ang aawit naman daw ng Philippine National Anthem, ang "Lupang Hinirang," ay ang Filipino-Canadian at YouTube sensation na si Maria Aragon.
Ayon kay Thia, "I am so excited to do it because it's one of my dreams to sing the U.S. National Anthem, even just to sing it inside a room with people.
"Now I will be singing it in a big event that the whole world will be watching.
ADVERTISEMENT - CONTINUE READING BELOW
"It all started when Manny asked me to sing for him the U.S. National Anthem.
"I was not even prepared that time but I did my best to sing it perfectly.
"Then he said that I'm doing it for his fight in Las Vegas.
"I was so shocked and happy at the same time because one of my dreams has come true."
LIFE-CHANGING EXPERIENCE. Masyadong mabilis ang mga pangyayari sa buhay ni Thia.
Within a year, nabago ang buhay niya nang sumubok lang siyang mag-audition sa American Idol Season 10.
Wala raw siyang expectations sa kanyang ginawa at hindi niya inasahan na papasa siya sa unang stage ng auditions.
"Everything that has happened to me from last year until now is such a blessing from God.
"I was this shy girl from California who just tried out for American Idol.
"I never even thought I would make it through the first stage of audition.
ADVERTISEMENT - CONTINUE READING BELOW
"But I made it through until I was able to sing in front of the judges [Jennifer Lopez, Randy Jackson, and Steven Tyler].
"I gave it my best and they liked it.
"I made it in the Top 10 and even though I didn't win, my being there to compete is a big win for me already."
PROUD TO BE PINOY. Sabi pa ni Thia, "I'm proud of my roots.
"I gained so many friends and fans from different places, especially here in the Philippines.
"I met so many important people and I performed in places I've only read about or I've known on the Internet.
"It's a very fulfilling journey for me.
"Because of that, I was able to come back to the Philippines after 12 years.
"I was only four years old when I was here for a vacation.
"My mom always talked about going back for a vacation and she would take me with her.
ADVERTISEMENT - CONTINUE READING BELOW
"We never knew that it would happen this soon.
"When AI said that we were going on an Asian tour and Manila was the destination, it was a prayer answered.
"And my mom was so thrilled about it, she made phone calls to our relatives in Pampanga saying we were coming home.
"And so far, my stay here has been so much fun.
"They gave me a motorcade in Pampanga. I was like homecoming queen!
"We'll be going to Boracay because I love to see one of the famous beaches in the world.
"And I would like to thank my fans, the Thianatics, for giving me all the love and support.
"They even gave me a plaque of appreciation because I'm also helping them out with their acts of charity in Davao City.
"They are also members of True Hearts Foundation and they've raised funds for the children of Davao City [which was struck by a] calamity months ago.
ADVERTISEMENT - CONTINUE READING BELOW
"Even as a child, I've been doing a few charity events. I've been helping out.
"And this thing that the Thianatics did is something that I am proud of and I will continue supporting them and [their noble cause]," pagtatapos ni Thia.
SHARE THIS STORY American Idol winner Scotty McCreery" data-url="https://www.pep.ph/news/31207/thia-megia-reveals-real-score-with-american-idol-winner-scotty-mccreery" data-desc="Thia picked by Manny Pacquiao to sing the U.S. National Anthem at his fight against Juan Manuel Marquez." data-image="https://contents.pep.ph/images2/news/978a54b8b.jpg"> American Idol winner Scotty McCreery" data-url="https://www.pep.ph/news/31207/thia-megia-reveals-real-score-with-american-idol-winner-scotty-mccreery" data-desc="Thia picked by Manny Pacquiao to sing the U.S. National Anthem at his fight against Juan Manuel Marquez." data-image="https://contents.pep.ph/images2/news/978a54b8b.jpg"> American Idol winner Scotty McCreery" data-url="https://www.pep.ph/news/31207/thia-megia-reveals-real-score-with-american-idol-winner-scotty-mccreery" data-desc="Thia picked by Manny Pacquiao to sing the U.S. National Anthem at his fight against Juan Manuel Marquez." data-image="https://contents.pep.ph/images2/news/978a54b8b.jpg">
SHARE THIS STORY
American Idol winner Scotty McCreery" data-url="https://www.pep.ph/news/31207/thia-megia-reveals-real-score-with-american-idol-winner-scotty-mccreery" data-desc="Thia picked by Manny Pacquiao to sing the U.S. National Anthem at his fight against Juan Manuel Marquez." data-image="https://contents.pep.ph/images2/news/978a54b8b.jpg"> American Idol winner Scotty McCreery" data-url="https://www.pep.ph/news/31207/thia-megia-reveals-real-score-with-american-idol-winner-scotty-mccreery" data-desc="Thia picked by Manny Pacquiao to sing the U.S. National Anthem at his fight against Juan Manuel Marquez." data-image="https://contents.pep.ph/images2/news/978a54b8b.jpg"> American Idol winner Scotty McCreery" data-url="https://www.pep.ph/news/31207/thia-megia-reveals-real-score-with-american-idol-winner-scotty-mccreery" data-desc="Thia picked by Manny Pacquiao to sing the U.S. National Anthem at his fight against Juan Manuel Marquez." data-image="https://contents.pep.ph/images2/news/978a54b8b.jpg"> American Idol winner Scotty McCreery" data-url="https://www.pep.ph/news/31207/thia-megia-reveals-real-score-with-american-idol-winner-scotty-mccreery" data-desc="Thia picked by Manny Pacquiao to sing the U.S. National Anthem at his fight against Juan Manuel Marquez." data-image="https://contents.pep.ph/images2/news/978a54b8b.jpg">