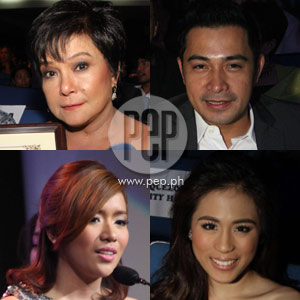 ---
Superstar Nora Aunor, with her Lifetime Achievement Award and hordes of fans, may have hogged the limelight at the Philippine Movie Press Club's 3rd Star Awards for Music held on October 16 at the Henry Lee Irwin Theater in Quezon City, but the winners in the total of 26 categories who turned up didn't mind it at all.
"Walang himala!" chorused the Siakol band members to emphatically express their surprise in winning the final award of the night—Album of the Year—for their seventh outing Tropa.
They bested popular solo acts such as Regine Velasquez, Cesar Montano, Sarah Geronimo, Toni Gonzaga, Kyla, and Gloc 9.
Siakol also won Rock Album of the Year and Rock Artist of the Year.
Angeline Quinto's debut single "Patuloy ang Pangarap" was named Song of the Year.
Angeline stopped by where Nora sat (at center first row) to hug her before she went up the stage.
She gushed about finally seeing the Superstar in person while thanking those who've helped her along the way.
Angeline likewise bagged the New Female Recording Artist of the Year.
Jed Madela (Male Recording Artist of the Year); Toni Gonzaga (Female Pop Artist of the Year); Sakto trio members Edgar Allan Guzman, Rodjun Cruz, and Lucky Mercado (Duo/Group Artist of the Year); Jhake Vargas (New Male Recording Artist of the Year); and Cesar Montano (Male Acoustic Artist of the Year) were similarly in awe of the Superstar.
Ditto for program hosts Christian Bautista, Gian Magdangal, Nikki Gil, and Krista Kleiner, presentors like Jericho Rosales, and even Nora's fellow OPM Icons expressed their delight in seeing her—for the first time or again after a long time—and their desire to work with her.
Jose Mari Chan, who was in the last group of OPM Icons along with Nora, Pilita Corrales, and APO Hiking Society members Jim Paredes and Boboy Garrovillo (he joked that Danny was too old to stay up late), recalled scoring one of Nora's past movies.
ADVERTISEMENT - CONTINUE READING BELOW
He also remembered having worked with Pilita back in the '60s.
When it was her turn to speak, Pilita cheekily corrected him that her iconic musical TV show, An Evening with Pilita, was only aired in the 1980s.
OPM ICONS. One consideration the Star Awards for Music organizers took in choosing the 15 OPM Icons was that they should have been in the business for the last 40 years.
Sylvia La Torre, the Philippine Madrigal Singers, Victor Wood, Jose "Pepe" Smith, Mike Hanopol, Freddie Aguilar, Celeste Legaspi, Ryan Cayabyab, and Basil Valdez completed the list.
Aside from plaques and certificates, they were also honored with trivia capsules presented by Janno Gibbs (to be aired between commercial gaps on its October 23 telecast on Net 25) and a gallery of photos exhibited at the theater's entrance.
Among the icons, it was only Pilita who performed.
Just before the announcement of the last recognition, she sang a mash-up of her signature hits "A Million Thanks to You" and "Kapantay ang Langit."
NORA & PILITA. Nora watched appreciatively, quelling rumors that she and Pilita—mother of her daughter Lotlot de Leon's estranged husband Ramon Christopher—aren't on good terms.
Prior to that, Nora and Pilita greeted each other with a kiss when they met onstage to accept their awards. They stood beside each other and even shared a laugh or two.
NORA MISSES SINGING. Nora, in her earlier acceptance speech, regretted not being able to sing. But she sang along when Jed and Angeline did a medley of tunes associated with her—"People," "Handog," and "Ikaw ang Superstar ng Buhay Ko."
She also enjoyed bantering with Cesar while he was on stage waiting for the two-guitar setup for his number, "Darating ang Araw."
She only missed the appropriately upbeat and informative opening number performed by The CompanY because she arrived just a few minutes after the program began.
ADVERTISEMENT - CONTINUE READING BELOW
The premier vocal group did a medley of OPM classics "Limang Dipang Tao," "Swerte-Swerte Lang," "Manila," and "Hahanapin Ko" that's bound by "Big Beautiful Country" and backed up with a video montage.
After that, it was Nora's presence that was most felt in the venue and that everybody—winners, losers, award officials, production staff and crew and audience members—took complete pleasure in despite the long lulls.
Here's the complete list of winners:
Album of the Year: Siakol Tropa/Siakol/Synergy Music
Song of the Year: "Patuloy ang Pangarap"/Angeline Quinto/Star Records
Female Recording Artist of the Year: Sarah Geronimo/One Heart/Viva Records
Male Recording Artist of the Year: Jed Madela/The Classics Album/Universal Records
Female Pop Artist of the Year: Toni Gonzaga/All Me/Star Records
Male Pop Artist of the Year (tie): Piolo Pascual/Decades 2/Star Records and Gerald Santos/Pinakahihintay/Prinstar Music Philippines
Duo/Group Artist of the Year: Sakto (Rodjun Cruz, Lucky Mercado and Edgar Allan Guzman)/Sakto/Sony Music
Music Video of the Year: "Walang Natira"/Gloc 9 and Sheng Belmonte/Sony Music/Director: J. Pacena II
Pop Album of the Year: Decades 2/Piolo Pascual/Star Records
Dance Album of the Year: Showtime (The Album)/Star Records
New Female Recording Artist of the Year: Angeline Quinto/Star Records
New Male Recording Artist of the Year: Jake Vargas/Ngiti/Dyna Records
Alternative Album of the Year: RPG Metanoia/Star Records
Revival Album of the Year: The Classics/Jed Madela/Universal Records
Acoustic Album of the Year: In You/Nyoy Volante/MCA Music
Female Acoustic Artist of the Year: Sabrina/I Love Acoustic 3/MCA Music
Male Acoustic Artist of the Year: Cesar Montano/Sony Music
Novelty Album of the Year: Willing Willie/Viva Records
Novelty Artist of the Year: Willie Revillame/Willing Willie/Viva Records
ADVERTISEMENT - CONTINUE READING BELOW
Novelty Song of the Year: "Tantaran"/Willing Willie/Viva Records
Compilation Album of the Year: George Canseco Works/Viva Records
Album Cover Design of the Year: Decades 2/Piolo Pascual/Star Records
Rock Album of the Year: Siakol Tropa/Siakol/Synergy Music
Rock Artist of the Year: Siakol/Siakol Tropa/Synergy Music
Rap Album of the Year: Talumpati/Gloc 9/Sony Music
Rap Artist of the Year: Gloc 9/Talumpati/Sony Music
Lifetime Achievement Award: Nora Aunor
OPM Icons: Sylvia La Torre, Philippine Madrigal Singers, Victor Wood, Jose "Pepe" Smith, Mike Hanopol, Freddie Aguilar, Celeste Legaspi, Ryan Cayabyab, Basil Valdez, Jose Mari Chan, Danny Javier, Jim Paredes, Boboy Garrovillo, Pilita Corrales and Nora Aunor
Special Awards: Male Celebrity of the Night - Jose Mari Chan

Female Celebrity of the Night - Nora Aunor
Female Face of the Night - Toni Gonzaga

Male Face of the Night - Mark Alain

Female Star of the Night - Nikki Gil

Male Star of the Night - Gerald Santos