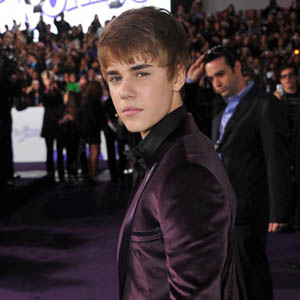 ---

Justin Bieber has become the first person in history to reach two billion hits on YouTube.
The "Never Say Never" hitmaker—who was discovered on the video-sharing site in 2008 by Scooter Braun, who later became his manager—hit a milestone when he gained 95 million views on his official Vevo YouTube channel in the past month.
The 17-year-old teen heartthrob has surpassed Lady Gaga's record. The latter was the first music artist to reach one billion views on YouTube in October 2010.
Justin's official channel on the website was first created in September 2009 and enables his fans—who are known as 'Beliebers'—to watch an array of his songs, including tracks from his Christmas album "Under the Mistletoe," which was released yesterday (November 1).
The "Baby" singer—whose songs "Silent Night" and "All I Want For Christmas Is You" are available for listening on the site—has paid tribute to his army of supporters.
This army includes more than 13.9 million twitter followers, whom he praised on the social networking webpage.
He tweeted: "i love my fans and i love music. thank u 4 helping me share my dream with all of u. proud of this album. hope u like it. UnderTheMistletoe"