Senator Bongbong Marcos's son Sandro slammed his poser on Twitter that posted negative feedback against Kapamilya actor Enchong Dee.
In his series of Twitter posts, Sandro clarified that the Twitter account using the handle name @sandromarcos007 is fake.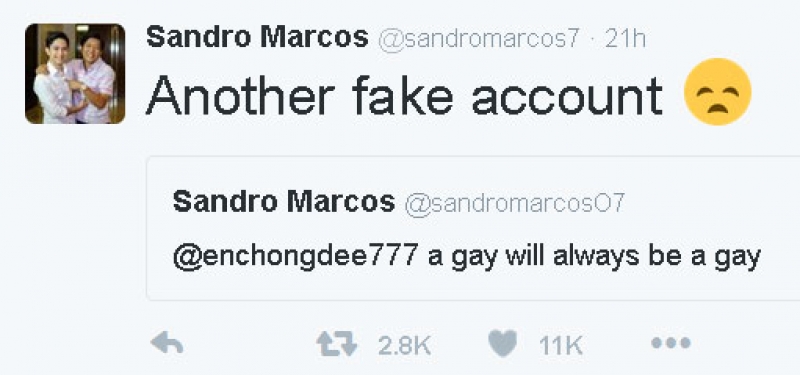 For the record, Sandro's Twitter handle name is @sandromarcos7.
Just to clarify, this is my ONLY twitter account. Those other accounts are not me and do not represent my views.

— Sandro Marcos (@sandromarcos7) May 12, 2016
SANDRO SAYS SORRY TO ENCHONG. Sandro also tweeted Enchong to personally apologize for dragging the Kapamilya into a social media uproar.
Enchong quickly responded and accepted Sandro's apology via Twitter.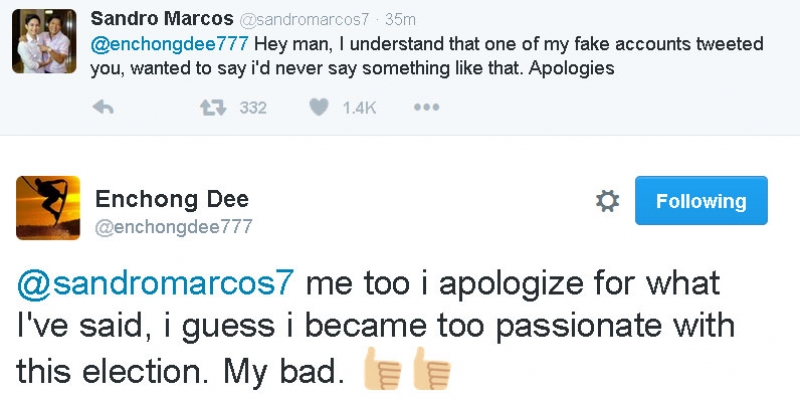 Earlier this week, Sandro trended on Twitter due to his controversial #DayaangMatuwid tweet in reference to the close fight between his dad and Camarines Sur Third District Representative Leni Robredo.
Read: Bongbong Marcos son apologizes for #DayaangMatuwid tweet
Incidentally, Enchong is one of the stalwart celebrity supporters of Robredo during the campaign for 2016 elections.