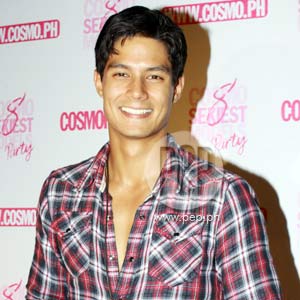 ---

Hunk model-actor Daniel Matsunaga showed full support for his sister Vanessa Matsunaga who was hailed as one of the Cosmo's 8 Sexiest Models last night.
"I'm really proud of her because she really worked hard to be where she is right now.
"I'm really happy for her because it took so long for her to be in this stage of her life," said Daniel in an interview before the Cosmo program started at the Palladium Bar, New World Hotel, Makati City.
Daniel came to the event with his mother and younger brother.
During the interview, the half-Brazilian, half-Japanese hunk was asked if he would be like his sister who married a Filipino last year.
Daniel has never hidden his true intentions with his actress-girlfriend Heart Evangelista.
And, like his previous interviews, he now replied: "Hopefully. We have plans. We hope."
Daniel said he and Heart sometimes talk about getting married.
He related, however, that they still have to focus on their respective jobs before settling down.
Daniel added, "Of course, it depends because I wanna be the one taking care of Heart.
"I wanna be the one providing for her.
"I just started in showbiz, so it may take a while for me.
"I'm gonna focus on my Tagalog and my job, try to improve myself.
"So in the future, maybe, I will be the one to provide. That's my plan.
"Hopefully, things work out well and go strong all throughout."
The Brapanese model also stressed that they're still both young.
He explained, "We still have a lot of things to do.
"It's not just to be involved and have a marriage. It takes time.
"We talk about it—but not so sure, not so sure yet.
"She's still young and I'm too young and we have a long way to go."
ADVERTISEMENT - CONTINUE READING BELOW
Daniel says, however, that when the right time comes, he will not hesitate to marry Heart.
"We hope that we're gonna work out really well. Let's see.
"We all look forward to that, of course," he ended.