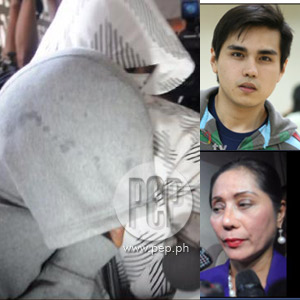 ---
The two suspects in the slaying of Ramgen Revilla claim that Ramon Joseph "RJ" Bautista and Ramona "Mara" Bautista took part in the planning and slaying of the aspiring actor-politician.
RJ and Mara are the siblings of Ramgen, who was killed in a shooting and stabbing incident last October 28, Friday. (CLICK HERE to read related story.)
At the first preliminary investigation of Michael Nartea and Roy Francis Tolisora that pushed through yesterday, November 9, at the Parañaque Office of the Prosecutor, the legal counsel of the two suspects said:
The siblings of Ramgen were responsible for giving the hired killers access to their residence at No. 4 President Avenue, Phase 6-A, BF Homes, Parañaque City.
In Atty. Analuz B. Cristal's words, "Kasama siya [RJ]. Siya yung nagda-drive nung Montero para makapasok yung assailant sa loob ng [bahay]."
The lawyer also said that the two suspects were asked by a certain "Brian" to kill Ramgen, and were paid an amount of 50,000 pesos to purchase a gun to be used to slay the 23-year-old Ramgen.
Atty. Cristal submitted yesterday the counter-affidavit of the suspects seeking to establish that Nartea and Tolisora were not the ones who killed Ramgen on October 28—but were the hired killers in the first attempt to attack Ramgen on October 12.
Asked why Nartea and Tolisora failed to carry out the plan, Atty. Cristal answered: "Hindi nila kaya. Kasi hindi naman kriminal ang mga ito, e.
"Hindi nga marunong mag-drive at hindi marunong pumutok [ng baril]."
The legal counsel insisted that the two had an alibi for their whereabouts on the night of October 28, when the crime was committed: Nartea was already at home while Tolisora was out drinking with friends.
"Yung client ko [Nartea] nasa bahay at yung isa naman [Tolisora] nag-iinuman.
"Nag-excute ng affidavit yung mga kainuman," said Atty. Cristal in a brief interview after the preliminary investigation.
ADVERTISEMENT - CONTINUE READING BELOW
Nartea and Tolisora's lawyer likewise mentioned three additional witnessses.
These include a certain Lisa, an owner of a sari-sari store; a certain Rogelio, an employee of the Parañaque court; and a certain Greg.
The three witnesses support Nartea and Tolisora's alibi that the latter were not present at the scene of the crime on October 28.
According to Atty. Cristal, it was Glaiza's hitman who killed Ramgen on October 28.
Glaiza Vista is included in the list of suspects who had a hand in the planning and execution of the crime.
Also in the list are: RJ, Ramona, and Norwin dela Cruz and Brian.
At the continuation of the preliminary investigation slated today, November 10, Atty. Cristal will submit another affidavit from a witness.
Meanwhile, the Task Force Ramgen, headed by Chief Enrique Sy, is expected to answer the counter-affidavit by November 12.