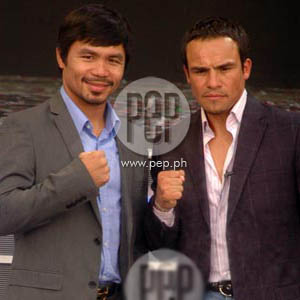 ---
Las Vegas, Nevada—The MGM Grand Garden Arena is teeming with boxing enthusiasts clamoring for a taste of what may be the ultimate fight between Manny "Pac-Man" Pacquiao (53 wins [38 by KO], 3 losses, 2 draw) and Juan "Dinamita" Manuel Marquez (53 wins [39 by KO], 5 losses, 1 draw).
The two sluggers first clashed fists back in May 2004 at the MGM Grand with the decision ending with a draw despite Manny flooring the Mexican three times in the first round alone.
Their rematch at the Mandalay Bay, Las Vegas, four years later, ended as a split decision in favor of the Pambansang Kamao.
This fight history with Pacquiao still aggravates Marquez and it clearly shows with the T-shirts he wore ("I beat Manny twice") whenever he makes public appearances.
Pacquiao's WBO Welterweight title is on the line today but this fight with Marquez will mean more than just defending his belt—it would mean closing the 7-year-old argument about who is the better fighter and finally removing all doubts in the minds of boxing fans and Marquez himself.
LET'S GET IT ON. Marquez was the first one to emerge from the dugout wearing a white sombrero and black trunks.
Pacquiao followed a little later wearing white and blue trunks.
Referee Tony Weeks will officiate the fight.
Now it's time to fight!
Rounds 1 to 6. Pacquiao starts the offensive with jabs while Marquez defends.
Pacquiao continues his jab barrage and Marquez can only defend himself.
A left from Marquez lands but Pacquiao shrugs it off.
Pacquiao dances and lands a left to Marquez followed by a combination of punches to the Mexican's body.
This time, both fighters are defending but Pacquiao suddenly explodes with a good and successful combination punch to Marquez.
Both are dancing around at this time so Pacquiao moves in with his offense and gives a good left straight to Marquez.
ADVERTISEMENT - CONTINUE READING BELOW
Round 2 starts with the two fighters circling each other, looking for an opening.
Pacquiao starts with useless jabs and Marquez answers with a combination that misses.
Pacquiao answers back with three great left jabs to Marquez's body.
Pacquiao still going for body shots and Marquez upper-cuts Pacquiao but only lands on the shoulder.
Marquez is successful with his counter-punches against Pacquiao.
Round belongs to Marquez.
Round 3. Double jab from Pacquiao and his right hand lead lands.
Left from Manny hits, then a good jab.
Marquez misses his mark. Pacquiao pushes Marquez back.
Left to the body lands good for Marquez.
Good right straight from Manny lands squarely to Marquez.
Good right hook from Pacquiao catches Marquez's attention.
Manny lands one before the bell rang.
Round 4. Manny delivers two hard left straights to Marquez and lands.
Right jabs from Marquez hits air.
The two fighters are more pumped up in this round.
Marquez unleashes an artillery barrage of punches but Pacquiao avoids.
Pacquiao lands a left but Marquez answers back with solid body shots.
Pacquiao again lands a good left and Marquez answers with a decent right cross.
Round 5. Nothing going on in first few seconds of the round.
Marquez lands a good combo to Pacquiao's body but to no effect.
Marquez leads an upper-cut but misses.
Pacquiao lands a couple of right jabs but Marquez immediately answers back with a right solid jab.
Round 6. Good hard left from Pacquiao lands.
Marquez answers with great body shots.
Left-right from Pacquiao momentarily stuns Marquez but recovers and gives Pacquiao two good right jabs.
Hooks are exchanged now and round ends with Marquez landing some body punches.
Rounds 7 to 12. The seventh round starts with Marquez giving an explosive right to Pacquiao.
Pacquiao answers with a flurry of punches but fails.
ADVERTISEMENT - CONTINUE READING BELOW
Left for Pacquiao lands good but gets a return shot to the body courtesy of the Mexican.
Another blow to the body lands for Marquez but Pacquiao answers with a solid left then a right.
Hard upper-cut from Marquez lands before the bell.
Round 8. Marquez attacks with a right plus a left upper-cut to Pacquiao.
Pacquiao retaliates with a left to the body.
A right from Marquez hurts Pacquiao then followed with another good right from Marquez.
Pacquiao on the offensive now with a leftie punch followed by a barrage of punches that lands successfully.
Round 9. Left hook from Marquez connects to the back of Pacquiao's head.
Another combo lands good for Marquez. Big hook is unsuccessful for Pacquiao.
Both are now unleashing hell on each other then they break off.
Round 10. A hard right from Marquez connects and Pacquiao answers with a left but misses.
Pacquiao has a cut on his right eyebrow now. Marquez gives a right and Pacquiao lands a left.
A flurry of punches from both fighters go on until the end of the round.
Round 11. Pacquiao starts off with a heavy 1-2 combo and Marquez answers back madly and Pacquiao retreats.
Pacquiao again lands a hook and Marquez answers back.
Marquez goes on the offensive but not enough time to make it even.
Round 12. Jabs from Marquez are dull. Left jabs from Pacquiao do not do well.
Pacquiao again does a combo but does little.
Pacquiao evades flurry from Marquez; Pacquiao's mouthpiece flies off.
Pacquiao goes for gold in the closing rounds but does not succeed in bringing Marquez to the floor.
Final result: 114-114, 115-113, 116-112. Majority decision for Manny Pacquiao!
CONTROVERSIAL WIN. After the announcement of Pacquiao's win, Marquez and his team stormed out of the ring.
Some spectators, mostly Marquez supporters, booed.
ADVERTISEMENT - CONTINUE READING BELOW
Marquez believes he won the fight.
Manny, on the other hand, said, "I feel I won the fight. It was close but I won. The headbutts hurt me."
Manny's coach, Freddie Roach, had this to say about the match: "It was a really close fight. I wish Manny had performed to his [potential]."
Because of the controversial result, even boxing promoter Bob Arum vowed to have another rematch in 2012.
He said, "I am bound and determined to finally find a definitive winner once and for all."
The Filipino boxer has agreed to this.

Pacquiao said, "Yes I want to give him a rematch."