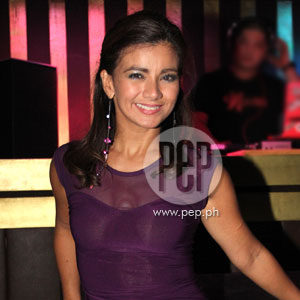 ---
Isabel Granada's stunning face and figure hasn't changed much since her heyday in showbiz during the late '80s up to the mid '90s.
While she's kept a low profile since her marriage to Geryk Genasky Aguas in 2002, Isabel remains a head turner with her long thick lashes, doe eyes, and lean, petite frame.
The former child actress and commercial model rekindled her showbiz career when she joined the new roster of celebrity castaways in Survivor Philippines Celebrity Doubles Showdown.
It's a deja vu of sorts for Isabel, who gets paired with former child star and love team partner Chuckie Dreyfuss— who is also bent on making his showbiz comeback after a long hiatus.
Together with 19 competitors, Isabel spent 36 tormenting days in Palawan, isolated from civilization and away from the comfort of their homes and families.
"Papayat ka talaga since you don't eat much. You don't sleep much.
"Emotionally, siyempre, nai-stress ka. Physically, dahil sa mga challenges, and mentally dahil sa strategies.
"But all turned out well naman," said the half-Spanish, half-Filipina actress whose toasted skin was wrapped in the dimness of the bar, absorbing the glimmer of the laser lights.
It was celebration night for Isabel, the rest of the castaways, as well as the rest of the Survivor Philippines production team.
Together, they eagerly watched the show's Season 4 pilot episode last November 14 in a bar somewhere along Timog Avenue in Quezon City.
Unlike her cohorts who partied hard that evening, Isabel stood close to her husband, their hands clasped, letting go only to have his free hand land on her hip.
She smiled warmly to anyone who looked her way.
Asked how she manages to maintain her slender physique, Isabel talks about her commitment to keeping fit.
"Medyo health conscious na tayo, e.
ADVERTISEMENT - CONTINUE READING BELOW
"It's not because I'm in showbiz, pero it's more of my personal thing para mas maging confident ako and at the same time for my family, for my husband," Isabel shared.
She does not deny that she took great pains to condition her body for what would be a grueling test of character, strength, will, and wits.
Isabel said, "Before I entered Survivor, kahit na physically fit ako, I really exerted effort pa rin to be more fit.
"Kasi nga, alam ko yung mga dadatnan ko sa island is totally different from... doing workout or playing badminton.
"So, I did extra, like biking, running."
Despite her preparations, which included playing volleyball and tae-bo, the experience in the island was unspeakable.
"Pag pasok ko ng Survivor... grabe!" Isabel remarked.
PILOT EPISODE. On the first episode of Survivor Philippines Celebrity Doubles Showdown, the 10 pairs of castaways were welcomed into the competition by being left in the middle of the sea, all of them locked in a floating cage.
Upon freeing themselves, they had to swim to the shore to retrieve immunity bracelets—something they will all be vying for for the next days.
Isabel and her partner Chuckie came in second, which won for them the opportunity to pick their teammates.
Their tribe was subsequently called Tala.
The other tribe, formed by Filipino Rugby players Arnold Aninion and John Odulio, was named Bulan.
Recalling the entire experience, Isabel reckons, "Honestly? Wala sa challenges yung aking paghihirap, e."
She says that she found the competition to be emotionally trying.
Survivor is known for bringing out the demons within people.
"It's more emotional, kasi I met people—not from my tribe... Mas maraming ahas na tao kesa ahas na hayop."
Did she clash with others during the competition? Did she get herself in an argument or a catfight perhaps?
ADVERTISEMENT - CONTINUE READING BELOW
Isabel answered, "Yes. Mainly because I wasn't even fighting for myself, e.
"I was only fighting for other people—my tribe.
"Mas mahalaga sa akin na ipaglaban ko yung mga kasama ko kesa ipaglaban ko yung sarili ko."
The former That's Entertainment star mentioned likewise that she and Chuckie were caught in a conflict at some point.
"Natural na naman yung medyo magka-clash kayong dalawa kahit na dati pa kayo magkakilala.
"Kumbaga sa magkapatid, mag-ina, sa mag-asawa, sa mag-boyfriend—sa lahat nangyayari 'yan.
"Pero it's a good thing na alam na namin yung topak namin."
The former loveteam partners— who figured in '80s TV shows such as Happy House— have come to know each other well.
TRUST. While Chuckie as her co-pilot provided her all the support she could get, Isabel says that at the end of the day, playing the game meant being on guard at all times.
"One thing I've learned is you can never trust anybody but yourself.
"I'm not saying na everybody hindi mo dapat i-trust."
An infamous aspect of the game is scheming against each other to emerge as the grand winner.
One has to learn to connive with the right people, to deceive and manipulate them in order to "outwit, outlast, and outplay" the other competitors.
"You shouldn't trust anybody na one hundred percent. Leave some ten percent to yourself," advises Isabel.
MOTIVATION. What kept her going the whole time was the thought of her family.
"My motivation is my family. Especially yung husband ko, yung son ko, and my mom," she added.
Prior to leaving them behind for more than a month, Isabel's family was very encouraging.
"From them, nakuha ko yung strength ko, e," stated the actress.
"Alam nila na kakayanin ko 'to.
"Wala silang hesitations na, 'Isa, wag na kaya?' or 'Isa, baka hindi mo kayanin.' Walang ganun, e.
ADVERTISEMENT - CONTINUE READING BELOW
"It was more of 'Isa, we trust in you, we know you can do it.'"
Her son, Hubert, wrote her a note before she left. It said, "Mom, you're a survivor even before the show was created."
Whether Isabel ends up as the grand winner or not, matters little to the hands-on mom, who's family means the world to her.
It was not the pizza she indulged in the moment she left the island but her family's presence in her life that stuffed her and restored her strength once more.