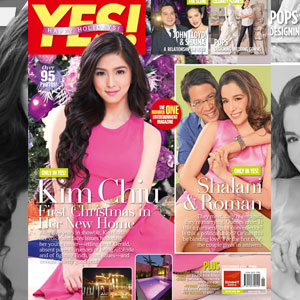 ---
From an unknown Pinoy Big Brother housemate to one of ABS-CBN's prized talents, Kimberly Sue Yap Chiu has, indeed, come a long way at the tender age of 21.
In April of this year, Kim was able to make her first big investment since entering showbiz—a three-story, four-bedroom house in an exclusive village in Quezon City.
Kim proudly welcomes YES! into her first new home this December. But an added bonus is that she has it grandly decorated in Christmas finery: tree, reindeer, Santa, stockings, lights, lights, and more lights.
Kim's brand new home was originally meant to be an all-pink house.
She tells YES!, "Talagang pink and violet dapat itong bahay na 'to. Pati kitchen. Lahat! Pero sabi ng ate ko, 'Uy tatanda ka rin. Pagsasawaan mo rin 'yang pink."
So Kim gave in, but went all-out in decorating her own room in her favorite hue.
As she puts it, "Sa lungkot ko, ginawa kong mini-condo 'yong kwarto ko. May sarili siyang buhay. Meron siyang sala, meron siyang stairs paakyat sa room, meron siyang C.R. ganyan."
It is a condo-loft unto itself! Only integrated into the second floor of her home.
When it came to the other aesthetics of the house, Kim was specific about what she wanted: "Parang gusto ko kasi, parang Polly Pocket. 'Yong pagbukas mo, maraming laman. Parang pagpasok mo, marami siyang dimensions."
Kim was very hands-on in the planning of the house's design and picking its furniture. She joined interior designer Janet Torio in picking swatches, lamps, and other items whenever she could find time.
Janet tells YES!: "The kind of design that I used in the house is eclectic. It's a combination of classic and modern design."
A testament to her hard work, Kim's house is what she considers her most prized possession.
ADVERTISEMENT - CONTINUE READING BELOW
It is, also, she admits, the only house she and her siblings have ever owned.
In what sometimes turns into an unexpected emotional tale, Kim speaks matter-of-factly about their family history—of living in one-room dwellings where the living/dining/bath/bedroom all fitted them in; of having their mother walk out on them when she was not even in her teens; of having a loving father who, however, has another family to take care of; of Kim building this house for all of them; and of them all having Christmas together for the first time in a place they can call their own.
So is she both light-hearted and serious when she says: "Sa lahat ng commercials ko, sobra akong thankful na hanggang ngayon kinukuha pa rin nila akong endorser.
"And lahat ng kinikita ko do'n, siyempre pinupundar ko sa pangarap ko—and ito na 'yon, bahay ko."
See more of Kim's Polly-Pocket-inspired home, in its Christmas resplendence, in over 95 photos in this month's issue of YES!
Also, Kim answers once and for all the rumors about her being a retokada.
She talks about letting go of former reel and real-life love Gerald Anderson.
And how she learned to be independent in the absence of her parents.
SHALANI-ROMAN ROMANCE. The December issue also features an exclusive interview with newly engaged couple Shalani Soledad and Roman Romulo.
For the first time, the couple share the story of their romance: how it all began, how intense it became very fast, and how and where they think their lives will go, now that they have each other.
JOHN LLOYD-SHAINA. The most recent events in the John Lloyd Cruz-Shaina Magdayao romance kicks off the return to YES! of "The Scene."
This is the section where stories, controversies and issues in the world of showbiz are tackled in bite-size form. The section makes its comeback after many years of absence, as a nod to the times. These are the times, after all, when stories, controversies and issues abound.
ADVERTISEMENT - CONTINUE READING BELOW
POPS FERNANDEZ AS DESIGNER. The country's first holder of the "Concert Queen" title is spreading her wings to another field she has always been interested in: designing clothes.
But because in her personal life, she has moved from the casuals to the trendy and campy, she has chosen to do gowns—wedding gowns, formal gowns, bridal entourage gowns, and so on.
Her biggest leverage, apart from the instant recognition that her brand Pops Fernandez will get, is that she means to keep her prices affordable. One formal gown may go for as low as P15,000.
YES! takes pictures of the gowns she has assembled to give would-be customers a sneak peek.
SNAPS. YES! also goes to two big booklaunches: the PPL group's book celebrating its stars and the Eat Bulaga! group's book marking 30 years in showbiz!
Join in, look at the pictures, read the stories—and have a fun December read!
As YES! says: "Happy Holidays!"
(Note: YES! is the print affiliate of PEP.)