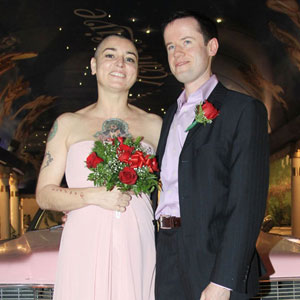 ---
Sinead O'Connor's marriage is over—again.
The "Nothing Compares 2 U" hitmaker broke up with husband Barry Herridge in December, after just two weeks of marriage, before reuniting with him a few days later.
But now they have split up again, with Sinead blaming what she calls the Irish media's harsh treatment of Barry.
In a statement on her website, she wrote: "His association with me became something very bad for his life. And slowly since we were married I became very ill as result of what was done to my husband and i was unable to cope. And became depressed..
"The behavior of one particular paper resulted in very serious damage to my husband and myself personally and consequently made the marriage untenable so that it is now over and I hope the media will kindly leave the poor man alone to get on with his life."
ADVERTISEMENT - CONTINUE READING BELOW
The 45-year-old star—who was married twice before—now hopes to get on with her life, and does not think she will get romantically involved with anyone again.
She wrote: "I will never again associate myself romantically with anyone as I could not bear to see these things done again to someone I love.
"I'm gonna be me. And if anyone doesn't like that they can seek therapy. Because I am wonderful. Exactly as I am. As Bridget Jones would say. And I shall continue being me. If being me means certain Irish media will try to destroy my romantic life ... So be it ... I have ten fingers and a number of toys (not really the toys. But need them now so maybe u cud all post me some!)"