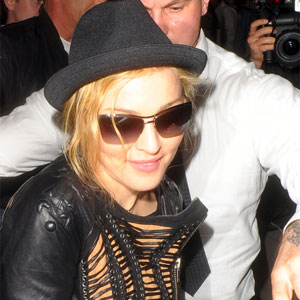 ---

Madonna is determined not to suffer any wardrobe malfunctions during her Super Bowl performance on Sunday (February 5).
The "Material Girl" hitmaker insisted "great attention" has been paid to her clothing to rule out any mishaps during her half-time show at the spectacle after one occurred in 2004 when Janet Jackson's chest was exposed to a global TV audience while she was performing.
Speaking in a press conference ahead of the event—which will see the New England Patriots take on the New York Jets at Indiana's Lucas Oil Stadium—Madonna said: "Great attention has been paid to my wardrobe. There will be no wardrobe malfunctions."
However, the 53-year-old singer admitted she has never "freaked out" more than she has planning for her Super Bowl show.
She added: "In 25 years of performing, I've never worked so hard or been so detail-oriented or freaked out as I have getting the schedule together for the Super Bowl.
"The envelope I'm pushing is just for a spectacular show which will entertain all age groups and be a spectacular feast for the eyes.
"I'm so excited to be here. I'm really nervous. This is a Midwestern girl's dream to perform at the Super Bowl half-time."