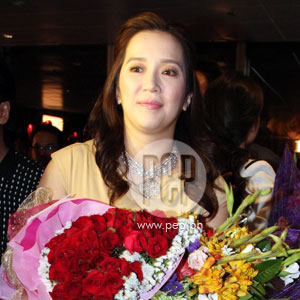 ---
It took the court one year and a half to declare the marriage of Kris Aquino and James Yap null and void.
The decision, according to some kibitzers, came fast and was released right away because of her famous last name.
Kris's legal counsel, Atty. Sharlyne Goboy-Lapuz, dismissed these speculations, citing "legal grounds" for the court's decision granting her client's petition after one year and a half.
Atty. Lapuz explained, "Our contention, at least for the lawyers, ha, and you can quote us on this, we're very confident that the marriage is null and void, totally null and void, just because of the lack of authority of the solemnizing officer.
"Based on the records, you can already see both Roman Catholics being married by a minister of a religious sect, Holy Sacrament International Church."
SIMILAR CASES. A number of showbiz ex-couples have gone through the process of getting a marriage annulment.
On June 21, 2005, Kristine Hermosa filed her petition on the grounds of "technical irregularities," as her former spouse Diether Ocampo put it.
She argued that a marriage certificate was not given during the ceremony solemnized by Mayor Antonio Esquivel on September 21, 2004 in Jaen, Nueva Ecija.
(CLICK HERE to read related article.)
In 2007, the Lower Court issued a resolution in favor of the actress, but a solicitor general made an appeal.
(CLICK HERE to read related article)
The final decision was released by the Court of Appeals in 2009.
(CLICK HERE to read related article)
A speedy annulment was granted to Lotlot de Leon. Her marriage to Ramon Christopher was nullified in May 2008—a year after the former filed her petition.
The reason: She got married when she was only 17 years old.
Under Philippine law, the legal age to get married is 18 and requires parental consent.
(CLICK HERE to read related article)
ADVERTISEMENT - CONTINUE READING BELOW
KRIS'S PETITION. The speed of the annulment process, Atty. Lapuz said, has a lot to do with the "nature of the case."
She continued, "The grounds we [presented] are so simple to prove. Look at the records, and [everything's] there.
"The only reason why it became contentious was because we had Article 36 [Psychological Incapacity].
"But if we were to prove only Article 35, we would only need three witnesses, and that would [require] more or less three hearings.
"So, if we filed it in August, there would be an exchange of pleadings, which would run for about one or two months, that's August, September, October.
"And then a hearing on November, three witnesses, siguro, safest na po siguro yung six hearings...it should have been shorter.
"'Tapos magpi-present lang ng witness yung kabila."
Did the President put pressure on the case?
Atty. Lapuz shook her head and explained, "Like I said in my previous statement to the media who asked, 'Ba't ambilis, ganun...'
"Each case depends on which court it lands and the court's case docket."
Aside from strong grounds, the court and cooperation between the couple were key because the process could be delayed should one party resort to delaying tactics.
She elaborated, "Why would you blame the parties for cooperating?
"The other people involved also worked promptly so we got the decision on time.
"It's not fast na rin po considering that the grounds to declare the marriage null and void were too obvious.
"Siguro mas maganda po tanungin natin sa court kung ga'no kadami ang cases na hini-hear nila. At saka po yung disposal ng case nila, ga'no mabilis?
"It's a family court. It's a special court. More or less, they're really an expert in deciding the cases, mabilis silang mag-dispose.
ADVERTISEMENT - CONTINUE READING BELOW
"While on our part, we had several witnesses, so it took some time for the petitioner, Ms. Kris, to present her case, pagdating sa kabilang party, almost no participation."
Why did James's camp not participate?
The lawyer's reply: "Only they can answer that..."
BIMBY. The resolution, as Boy Abunda mentioned in Bandila last February 3, awarded the custody of Bimby, the only son of Kris and James, to the mother.
Atty. Lapuz added, "The visitation was agreed upon by the parties.
"Custody was awarded to Kris because the child is below seven years old, and there's no disqualification on the part of Ms. Kris."
The cager will be entitled to visitation rights, but the lawyer said, "Kris is very liberal with the arrangements."
There is a trust fund for the four-year-old [Bimby], but "the prayer of Kris is that the trust fund be left untouched," said Atty. Lapuz.
The court, however, did not touch on child support.
JOSH. How does Josh, Kris's son with Phillip Salvador, figure in all this?
His name was mentioned during the hearings on psychological incapacity.
Atty. Lapuz explained, "Unfortunately, Josh was mentioned in relation to James's obligations as a father not only to Bimby but also to Josh.
"But since this ground was not relied upon by the court to declare the marriage of the parties as null and void, I refuse to discuss this in detail."
FREE AT LAST? And yes, there is a gag order, which explains Kris's silence on the topic.
"It hasn't ended. She can be interviewed [and she can only say] the fact that there's been a decision," said the young associate of MOST (Marcos Ochoa Serapio Tan) Law firm.
The decision, declaring the marriage of Kris Aquino and James Yap null and void, by Judge Cristina Javalera-Sulit of RTC Branch 140 of Makati City, was issued on January 9, 2011.
ADVERTISEMENT - CONTINUE READING BELOW
So, are Kris and James now legally free and single?
Atty. Lapuz answered, "At this point, to be technical about it, not yet.
"Because there's still the process of getting a decree of finality.
"There's registration, we expect a certificate of finality in a few months.
"Because if you get married without that...without that decree, puwedeng magkaroon ng defect ulit yung susunod na marriage."