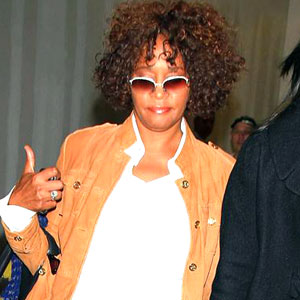 ---
Whitney Houston's funeral is going to be screened on the internet.
The singer's private memorial service is to take place at the New Hope Baptist Church, in Newark, New Jersey—where she sang as a child—on Saturday (February 18) and her publicist Kristen Forster has announced a camera will be allowed inside to film the ceremony so Whitney's millions of fans can watch it online and grieve for her.
The funeral will be shown on livestream.com/aplive on the day as well as being available on some satellite services.
Following the service, Whitney will be laid to rest at the Fairview Cemetery in Westfield, New Jersey, in the plot next to her late father John Houston.
The funeral is set to be attended by around 1,500 mourners; including many names from the music world such as Chaka Khan, songwriter Diane Warren, L.A. Reid, and Whitney's cousin Dionne Warwick.
Aretha Franklin—who was the star's godmother—has been asked to perform at the service.
However, Whitney's mother Cissy Houston and her family have reportedly barred her ex-husband Bobby Brown from attending because they blame him for getting her hooked on drugs during their disastrous marriage.
Bobby—who has an 18-year-old daughter Bobbi Kristina from his relationship with the "One Moment in Time" hitmaker—is quoted by TMZ.com as saying he is "extremely disappointed" by the news, and insists he wants to attend, but he "hasn't decided on a plan of action yet."
Whitney was found dead in the bathtub of her hotel room at the Beverly Hilton hotel last Saturday (February 11). She was aged 48.
Half a dozen bottles of prescription drugs including Lorazepam, Valium and Xanax—used as sleeping aids, relaxants, and to ease anxiety—were allegedly found in the suite.
It is believed a combination of prescription pills and alcohol caused her death.
ADVERTISEMENT - CONTINUE READING BELOW