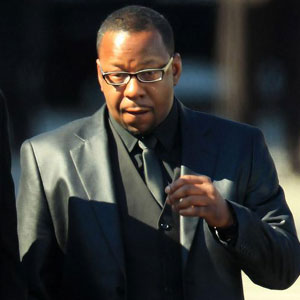 ---
Whitney Houston's ex-husband Bobby Brown left her funeral after an alleged bust-up with a family member.
The "My Prerogative" singer arrived at the service at the New Hope Baptist Church in Newark, New Jersey, on Saturday (February 18), and walked up to her coffin and lovingly touched it.
Bobby was accompanied by an entourage of nine people who he wanted to sit with him in the family section of the congregation.
When he was told this wasn't acceptable and they would have to be seated elsewhere, he angrily stormed out with his group.
However, Bobby—whose 18-year-old daughter Bobbi Kristina was sat directly behind her mother's coffin with her grandmother Cissy Houston—later returned to the Baptist church on his own and was seen entering through a side-door.
Bobby's representative later on released this statement about the incident:
"My children and I were invited to the funeral of my ex-wife Whitney Houston. We were seated by security and then subsequently asked to move on three separate occasions. I fail to understand why security treated my family this way and continue to ask us and no one else to move… Security then prevented me from attempting to see my daughter Bobbi-Kristina. In light of the events, I gave a kiss to the casket of my ex-wife and departed as I refused to create a scene. My children are completely distraught over the events. This was a day to honor Whitney. I doubt Whitney would have wanted this to occur. I will continue to pay my respects to my ex-wife the best way I know how."
ADVERTISEMENT - CONTINUE READING BELOW
Many of Whitney's family have blamed Bobby—whose tumultuous 14-year marriage to the "My Love Is Your Love" singer ended in divorce in April 2007—for getting Whitney hooked on drugs.
Her death on February 11 is believed to have been caused by a lethal mix of alcohol and prescription pills.
The funeral was led by the Pastor Joe Carter, while Whitney's cousin Dionne Warwick introduced the speakers and musical performances.
Mourners included Kevin Costner, Clive Davis, Alicia Keys, Stevie Wonder, Brandy, and Jennifer Hudson.