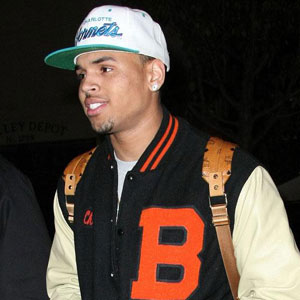 ---
Chris Brown says he wants to "f**k" Rihanna on a remix of her track "Birthday Cake."
Controversial star Chris—who was convicted of assaulting the star, his then girlfriend, in February 2009—has reunited with the singer on record, making a number of sexually explicit boasts, and fuelling rumors they have rekindled their romance.
In the track, released on Rihanna's birthday yesterday (February 20), Chris says: "Girl I wanna f**k you right now / Been a long time, I've been missing your body.
"Let me turn the lights down / when I go down it's a private party.
"Ooh, it's not even her birthday / but I wanna lick the icing off / Give it to her in the worst way / Can't wait to blow her candles out."
Rihanna also repeats the refrain: "It's not even my birthday, but you wanna put your name on it / oh baby I like it / its do exciting, don't try to hide it / I'm gonna make you my bitch."
ADVERTISEMENT - CONTINUE READING BELOW
She also says later in the song: "Remember how you did it?/ If you still wanna kiss it / then come and get it."
Rihanna also responded to thank Chris when he wrote "HAPPY BIRTHDAY ROBYN!" on twitter, and they have also worked on another track, where she appearing on a remix of his song "Turn Up the Music," which is much a more family friendly song.
Chris Brown was also rumored to be among guests at a birthday party for Rihanna in her Beverly Hills home last week.
Guest Katia C tweeted: "If Cupid was here he would be very happy everyone @Rihanna bday party was coupled up.
"All I can say, CB was invited and she was acting like the happiest girl on her birthday and probably got what she asked for."